News ADO
Which sports power bike is suitable for students?
by Vy Nhat on Jun 07, 2023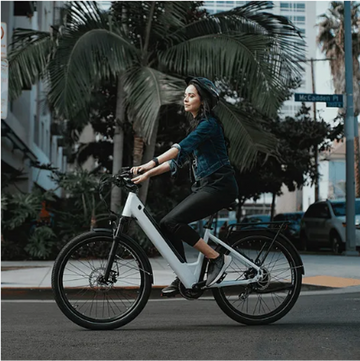 Sports power-assisted bicycles always give users a unique novelty, youthful and dynamic design along with high specifications. In addition, the variety of models from many different brands gives you many difficult choices. Let ADO E-bike tell you some tips to be able to choose a power-assisted bike suitable for students!
Should choose bikes from brands?
To ensure the safety of product quality along with customer care policies such as warranty and good maintenance suitable for students, you should choose products from reputable brands with clear origin. and long experience.
At ADO E-bike, you can easily choose products with unique designs to suit each student's needs.
For male students who love dynamic sports, along with a passion for conquering challenges, sports power bikes are the perfect choice for that strength.
Product reference:
As for female students, gently can choose for themselves street bikes with elegant and feminine designs. In addition, with modern parameters, the street bike line at ADO always gives users the safest and most convenient experience.
For students who love convenience, do not ignore the folding power-assisted bicycles, which are more compact than mountain bikes and convenient for storage when you can fold them easily.
Chassis selection
Bicycle frames are extremely important, they ensure the certainty and safety of students during their movement.
The sports power bike suitable for students needs to be designed simply, the center of gravity is suitable for your height to be easy to sit and control, with high popularity and safety, parents can You can choose a chassis made from aluminum alloy.
In addition, bicycle shock absorbers also need to be paid attention to when choosing bicycles for students, namely 2 front and rear shock absorbers. The front shock absorber helps students not to stiffen their hands and shoulders, as well as keep their balance when traveling on rough roads. Rear shock absorber to make cycling more comfortable as well as not cause back pain during cycling.
Brakes
Brake system is always a prerequisite when you decide to choose the right bike. Currently, with two mechanical brake systems and disc brakes, ensuring high safety for students moving every day.
With Fornix BH601 is equipped with other convenient parts suitable for moving to school of students such as: reflective lights, anti-theft lock as well as a small bell next to the handbrake part...
Choose the right vehicle for your height
Cycling to school every day to be safe, parents need to choose the right bike for the students, ask for the right height of the saddle so that when sitting on the saddle, the students can leave their feet. touch the ground, this will help them to react quickly in unexpected situations on the road.
After choosing a car, it is necessary to adjust the height of the saddle accordingly. In addition, with the folding bike line, with a compact and flexible design, it is extremely suitable for students.
Please contact Fornix immediately to choose the right bike with high safety for you!
The ADO E-Bike is a solid companion in urban living. We create products that provide a great driving experience on complex traffic conditions such as bumpy, rocky and uphill. All ADO products are designed to be environmentally friendly and comply with environmental guidelines.