News ADO
High-end sports power-assisted bicycle
by Vy Nhat on Jun 08, 2023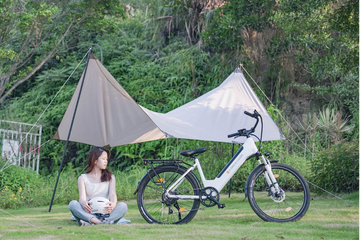 High-end sports power-assisted bicycle is the dream car of many people because of the great experiences it brings. So, what's so special about high-end sports bikes? Why is it so loved?
1. Smooth actuator
The actuator has a great role in supporting the user to move on different terrain surfaces. Or depending on the needs of practice and movement, users can completely change the vehicle mode to help achieve better training efficiency.
High-end mtb bikes are often equipped with the world's best transmissions such as Japan's Shimano or America's SRAM.
These actuators typically have 18 speeds or more. Thanks to the good quality, this equipment helps your car operate smoothly and smoothly. No stalling during operation.
2. Durable and lightweight frame
The chassis is a part that high-end sports bike manufacturers pay a lot of attention to. A lighter frame saves fitness and helps you enjoy a comfortable riding experience. However, imported high-end bicycles are not only light but also have high strength.
Therefore, high-end bicycle frames are often made of carbon or titanium.
Product reference:
3. High-grade hydraulic oil brake
The price of high-end sports bikes is quite high compared to the average income level. So the components on the car are all good and modern. Hydraulic oil brake is the best type of brake available today. It has a complex structure, but the driver only needs to squeeze a gentle force to completely adjust the speed of the car.

Hydraulic oil brake has high durability and precision. Therefore, when using, you do not spend much time on repair and maintenance. More specifically, this type of brake ensures your safety, especially when traveling at high speed or in crowded areas.
Hydraulic oil brakes used for high-end sports power bikes usually come from ADO E-bike.
4. Durable tires
A high-end bike does not need a good movement system, safe brakes, but also durable tires. A standard tire will grip the road better, the car will look better. At the same time, helping you to glide smoothly and gently.
5. Global standard brand
Imported high-end bicycles are manufactured by companies that meet global standards. Because, brands of this caliber are technically and technologically enough to produce bicycles for customers in the high-end segment.
These products are all manufactured on modern production lines and high quality technical team. In particular, the car is always strictly inspected before being delivered to consumers. High-end bicycle models are all global brand standards, so you are completely assured of the quality and safety of these products.
However, the price of a high-end sports bike is quite high, but what it gives you will be worth the money.