News ADO
Electric power assist bicycle ADO A26S VEHICLE
by Vy Nhat on Jun 08, 2023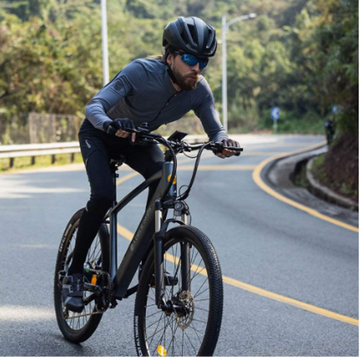 The ADO A26S XE Electric Power Assist Bike is ADO's first low-speed electric bicycle, passed thousands of debugging times and SGS standard testing process, low-span design with upgraded braking system, comfortable riding and smooth. Suitable for height 160cm-190cm, load <120kg.
Let's explore with ADO E-bike about this City ADO A26S XE electric scooter !
The most outstanding features of ADO A26S XE electric power assisted bicycles
Low span design and longer handlebars
Whether you're wearing pants or a skirt, the low-rise design allows you to cycle without clothing restrictions, while remaining comfortable and elegant in any dress code; The longer handlebar design allows you to control the direction more easily.
The longer handlebar design allows you to control the direction of the vehicle more easily
DEKRA CE certification
ADO A26S XE passed DEKRA laboratory test, reliable quality, guaranteed, passed EN15194 certification according to EU regulations, can be legally driven on European roads.
And the battery has CE certificate from DEKRA laboratory, all accessories meet the certification requirements of professional testing organizations.
ADO A26S XE passed DEKRA lab test
G-DRIVE pedal assist control system
The ADO G-Drive frequency conversion control system can quickly receive signals, and detect, acquire and analyze vehicles to respond to different road conditions.
Various power assist modes can be switched at will during driving and collected in real time to effectively reduce energy loss.
ADO G-Drive frequency conversion control system can quickly receive signal
Removable 10.4AH Lithium battery
The ADO electric bicycle's lithium-ion battery has over-charge, over-discharge, over-current and short-circuit protection functions. After 1000 charges, the battery still maintains 80% capacity.
The battery cover is designed to be sealed and waterproof, effectively isolating the lithium-ion battery inside, protecting your safety and extending battery life.
Powerful 250W . motor
The newly upgraded high temperature resistant inner ring has better heat dissipation, which can reduce the decay rate of the motor magnet and ensure a longer service life.
The engine's maximum torque is 41Nm, very strong power that can take you further and conquer a variety of road conditions.
Detailed description of parts of ADO A26S XE
26 * 1.95 inch CST tire
Equipped with 26-inch CST professional e-bike tires, anti-slip and wear-resistant, not afraid of all kinds of weather and terrain.
LCD screen IP65
Real-time mileage data logging, still visible in daylight.
E-MARK . certified headlights
High brightness LED headlight with wide illumination angle.
Extended saddle
Made of high quality memory foam, the surface is made of elastic PU leather, which is anti-slip, waterproof and wear-resistant.
Rear shelf and Fender
Iron rear shelf, load <50kg. High wear resistance and durability.
Efficient and quick braking system
The ADO A26S XE has been debugged thousands of times in the lab, using dual front and rear brakes to achieve the perfect balance between braking/starting speed and experience, with smooth starting and quieter as well as more stable and safe braking.
Shock absorber front fork
ADO A26S XE adopts fork shock absorber design to easily cope with different road conditions and can have a comfortable driving experience on rough roads.
Shimano 7-speed gearbox
0 without power assist, pedal controlled.
1-3 gears, low speed;
3-5 gears, medium speed;
5-7 gears, high speed;