News ADO
ADO D30 Lite electric power assisted bicycle
by Vy Nhat on Jun 08, 2023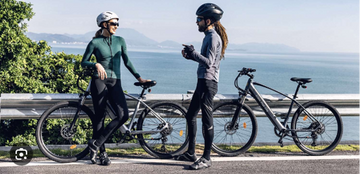 The ADO D30 Lite electric power-assisted bicycle is designed with a slim design that is only 21Kg light to suit many users. This is definitely a bike that has many advantages in terms of design, features and especially price. If you are in need of a new bike, this is definitely a good candidate for your reference. Let's find out details about ADO D30 Lite with ADO E-bike through the article below.
ADO D30 Lite Electric Power Assist Bike
Product reference:
Tires are 27.5 * 1.95 inches to ensure safety on all road surfaces. The chassis is made of high-grade aluminum alloy, the outside is sprayed with 4 layers of paint, so it will be difficult to scratch, durable and wear-resistant. Meticulous details add to the car's sophistication. Information such as speed, distance, battery capacity, etc. will be displayed on the vehicle clock mounted on the handlebars.
Large tires increase safety when traveling
Specifications of the electric power assisted bicycle ADO D30 Lite
Brand: ADO

Model: D30 Lite

Tire size: 27.5*1.95inch

Color: Gray/Silver

Top speed: 25Km/h (adjustable to 35Km/h)

Pure electric mileage: <50Km

Driving distance: <90Km

Load: 120Kg

Vehicle weight: 21Kg

Packing weight: 31Kg

Dimensions: 1800 x 640 x 1100mm

Box size: 1480 x 260 x 780mm

Frame Material: Aluminum

Brush motor

Rated power: 250W/42N.m

Transmission: Shimano 7 speed

Shock absorber: Front fork

Mechanical brake system

Lithium batteries

Battery Capacity: 36V/10.4AH

Battery Charger: 42V/2A

Plastic fenders
Specifications of ADO D30 Lite electric bike
Highlights of ADO D30 Lite Electric Bike
Control system ADO G-Drive 2.0
Vehicles equipped with this system help the driver intelligently and easily adjust the speed of the power assist when the vehicle is going uphill or improve safety when going downhill, saving energy when traveling long distances.
Modern adjustment system
Brushless motor and dual shock absorbers
Possessing a capacity of 350W and a built-in brush motor with 42Nm of torque, it is enough for you to conquer small slopes or hills. This is definitely the right choice for those who are looking for a power-assisted bike. In addition, the D30 Lite has an additional suspension system to move smoothly in different road conditions.
ADO D30 Lite electric power assisted bicycle
Shimano system 7 levels
Whether the road is flat or bumpy, the ADO D30 Lite electric power-assisted bike can adapt easily. You can adjust 7 different speeds to suit the needs of climbing hills, climbing slopes. The professional transmission system should be gentle and quick during the operation, so it does not affect the movement.
Shimano 7-speed gearbox and new generation battery
Quick Charge Lithium Battery
You will not need to worry about long-distance riding because the D30 Lite uses a 36V/10.4A battery, with just one charge, the car can go 80-90Km in power mode and 50Km in pure electric mode (distance traveled). may vary depending on vehicle load, road conditions). Lithium battery is compact, so it can be taken out of the car to charge anywhere. In particular, for the product to have a longer life, the manufacturer has equipped with overcurrent, overload, short circuit and temperature protection to make the battery more durable.
ADO D30 Lite electric power assisted bicycle
Both front and rear use dual disc brakes
Brakes are an important part of the vehicle, to ensure the safety of the user, both the front and rear wheels are equipped with super-durable hydraulic disc brakes, the driver can handle it safely when there is a problem. surprise. Besides, the brakes are always stable thanks to the addition of lubricating oil.
Use dual disc brakes both front and rear
With a compact, convenient and environmentally friendly car like the ADO D30 Lite, you don't hesitate to come to ADO to own one.
The ADO E-Bike is a solid companion in urban living. We create products that provide a great driving experience on complex traffic conditions such as bumpy, rocky and uphill. All ADO products are designed to be environmentally friendly and comply with environmental guidelines.