News ADO
Learn about electric bicycles? Why should buy? (part 3)
by Vy Nhat on Jun 01, 2023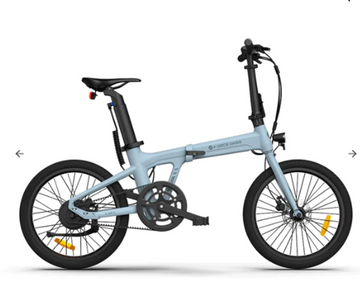 Learn about electric bicycles? Why should buy? (part 3)
- continuation of part 2 -
As mentioned in the previous section, we have learned the most important information about the electric motor and controller of the electric bicycle. Let's learn about the remaining parts today
Bicycle frames
Simplicity is an indispensable thing to create a bike, bicycle frames come in all shapes and sizes with different qualities. However, the best cars today are made from aluminum-magnesium alloys or carbon. That helps them achieve lighter weight than traditional steel frames as well as excellent durability.
See also: ADO Air 20 . power-assisted bicycle
Also to discuss more about the design, with the creativity from the manufacturer, countless unique models have been born. They are also extremely intelligent when these designs help the car achieve the best performance. For example, the Zhengbu K6S with an extremely unique Z-inspired design or ADO's D30C is super light and durable. At the same time, these vehicles also have the ability to fold, making it easier than ever to store, store or transport. In addition, a sturdy chassis also helps to protect the battery perfectly against weather conditions, especially the humid tropical monsoon climate like in our country. The colors are also very beautiful, typically two limited edition cars Engwe Engine Pro AURORA or ADO A26S Peacock Blue.
See also: Bicycle ADO A26S VEHICLE
So along with customer tastes, there are also a variety of bicycle models for you to choose from. So don't be afraid to visit our store and buy yourself a car you like :D.
A battery
The heart of the car, it supplies all the power to the engine and the controller. Secured in the body of the vehicle, and disassembly is also extremely easy. Most of the capacity of these batteries will range from 36V-10Ah to 48V-19Ah, but there are exceptions such as ADO with 2 huge batteries.
The material of the power-assisted bicycle battery is mostly from Lithium-Ion, a very famous semiconductor duo in the transmission world. They are better than traditional batteries, and replacement is also extremely easy. You can completely replace it yourself if you have enough equipment, or simply bring it to a reputable distributor for maintenance.
The ADO E-Bike is a solid companion in urban living. We create products that provide a great driving experience on complex traffic conditions such as bumpy, rocky and uphill. All ADO products are designed to be environmentally friendly and comply with environmental guidelines.