News ADO
Why does cycling make you happier?
by Vy Nhat on Jun 08, 2023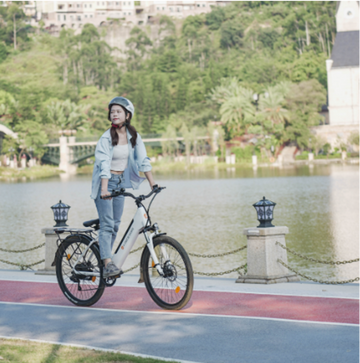 Whether you are cycling in any kind of weather from cold, hot or in the afternoon, cycling is one of the exercises to help you feel more in love with life and people. Don't believe it? Let ADO E-bike show the benefits that bicycles help improve your mood!
According to a study at the University of Sports Medicine (USA) has shown that with 30 minutes of exercise will help you improve your mood and reduce depression effectively. Because during exercise, the brain will produce chemicals that make you feel happier, such as serotonin, dopamine and phenylethylamine. In addition, exercise also enhances the release of growth hormones, speeds up the supply of blood and oxygen to the brain, stimulates the release of endorphins, which help improve mood.
Product reference:
In addition to the psychological and emotional benefits, exercise by cycling also helps you focus better, keep fit, increase social activities, effectively reduce stress. Have you found cycling is a great choice for your health?
What is Serotonin?
Serotonin is a neurotransmitter that helps us maintain emotional and social balance. And Serotonin will be increased during exercise, boosting confidence as well as positive energy.
In addition, Serotonin is also found in salt, cheese, duck, chicken, oats, baked potatoes..
Dopamine Nutrients
Dopamine is a neurotransmitter for happy emotions, an essential nutrient that keeps us energized and motivated. One study found a link between exercise and dopamine after 12 weeks. The results show that the amount of dopamine to the brain increases, creating a higher motivation for the practitioner.
For foods rich in nutrients such as meat, milk, fish, beans and soy milk also contain dopamine.
Phenylethylamine Nutrients
Like Serotonin and Dopamine, Phenylethylamine is also a natural neurotransmitter in the brain. They are formed through the microbial fermentation of foods, act as mood enhancers, and support dopamine production. Raising blood pressure and blood sugar keeps us awake and satisfied.
You can choose forms of cycling such as city cycling, sports cycling or mountain biking to enhance health as well as improve different emotions. Here are ADO power-assisted bicycle product models to suit everyone's needs
ADO D30C . sports power-assisted bicycle
Power-assisted bicycle ADO D30C
D30C with 14-speed variable speed, 700c wheel is suitable for those who love professional cycling, with high specifications to bring the experience of speed, FORNIX FR100 is the perfect choice. .
Product reference:
Power-assisted bicycle ADO A26S VEHICLE
ADO A26S is equipped with a 21-speed changer, 3 forks in front and 7 at the rear, suitable for many types of terrain and the condition of the rider. A26S is the choice for players with many years of experience who love to explore and challenge.
ADO A20 Air power-assisted terrain bike
ADO A20 Air is one of the typical product lines of 2020, with a powerful 24-speed transmission, 3 front discs and 8 rear cassettes. Another highlight of the A20 Air is its modern and eye-catching design. If you are looking for a strong modern twist, don't miss the A20 Air!
Please contact ADO E-bike immediately to choose a suitable bike for yourself!
The ADO E-Bike is a solid companion in urban living. We create products that provide a great driving experience on complex traffic conditions such as bumpy, rocky and uphill. All ADO products are designed to be environmentally friendly and comply with environmental guidelines.