News ADO
Cycling action in the new decade 2023 today
by Vy Nhat on Jun 08, 2023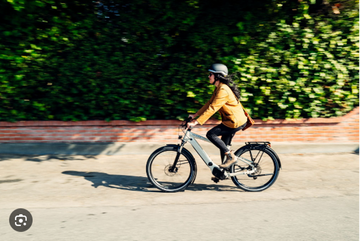 You've always wanted to be able to cycle in this new year but haven't started yet, let ADO E-bike help you have more determination in taking this action!
1. Plan an exciting journey
It will be a bit boring when you only cycle in crowded urban areas, or in remote suburbs. Therefore, how to be able to balance the cycling journey with the same place is one of the keys to being able to persist in cycling. Don't hesitate to join cycling clubs, or cyclists' associations so you can check out the interesting routes that the runners share.
You can combine it with specific navigation apps to visualize the road ahead that you conquer. In addition, with a specific plan, you will easily find yourself a companion to share other interesting cycling experiences.
Even if you want to be separate from technology, you can choose a paper map, and don't forget to take notes of interesting places that you have visited, sounds interesting, isn't it!
2. Food for the long haul
Food is an indispensable part for the muscles in the long journey of training. In a long cycling journey, choosing the right food is a psychological choice. Because delicious food is the reward that you yourself prepare for each conquering point, creating a constant motivation to surpass your limits.
You can choose

the A26S power-assisted

bike

with convenient baga equipment to give you more space to pack unlimited rewards for yourself for exciting trips.
3. Change the way you ride your bike
Once you've cycled but only for a short period, with familiar exercises not enough motivation to continue, do not hesitate to switch to road cycling with challenges of speed and terrain exploration right away!
Changing the way you cycle is also one of the ways to increase your enjoyment of this activity. You can try the method of sprinting with the acceleration track combined with the recovery section. With small changes will make your journey more interesting.
4. Equip your power bike to prepare for long journeys
If you want to start with more challenging challenges, but still don't want to change to a new bike, you can choose another method that is to "upgrade" the bike to improve your performance. car.
Product reference:
Such as the option to adjust the saddle height, install more reflectors for cycling in the evening... From the brake, the wheel you can choose to upgrade so that the bike can help you conquer meet future challenges more easily.
Also, with different challenges, don't forget to equip the basic repair kit to be able to deal with other types of situations that arise on the road.
5. When injured, need to be rehabilitated
With many muscles that love sports, they always try to get on the bike, even with minor injuries. But FORNIX believes that you need to let your body rest and recover before vigorous exercise to ensure that the injury does not get worse and cause future inconveniences.
The ADO E-Bike is a solid companion in urban living. We create products that provide a great driving experience on complex traffic conditions such as bumpy, rocky and uphill. All ADO products are designed to be environmentally friendly and comply with environmental guidelines.
You can't choose for yourself a suitable bike? Do not hesitate to contact

ADO Ebike immediately

!