News ADO
The "evolution" of electric power-assisted bicycles in the 4.0 era
by Vy Nhat on Jun 06, 2023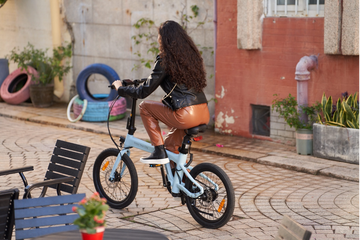 This article helps you understand the history of the development of electric power-assisted bicycles, the difficulties in research and development, and models of public bicycles.
Electric power-assisted bicycles – From international exhibitions to national markets
In early May 2020, the China International Bicycle Exhibition attracted more than 1,000 exhibitors, the "Electric Power Assist Bicycle" series. After this conference has sprung up, many companies have brought their own powered products. The target of a large number of buyers this time is mainly " electric power-assisted bicycles ". This is in line with strong demand for electric bicycles in Europe, Asia, Southeast Asia and other countries. The general cooling of the traditional bicycle industry is the expectation of a trend with electric power assist.
What exactly is an electric power assisted bicycle? What is the difference between it and an electric bike? Why is there strong demand in the European market but lack of popularity in the Vietnamese market? Let this article help you sort through the development history of electric power-assisted bicycles. Technical difficulties in research and development and other alternative technology vehicles.
Start
In the late 2000s, the concept of electric power-assisted bicycles was introduced to Vietnam. But due to the level and production technology. Therefore, Vietnamese companies have not been able to produce power steering systems. The cost of importing important parts and components from Japan is extremely high. If produced, it would seriously exceed Vietnam's consumption at that time.
Therefore, Vietnamese companies have changed their mind. Then use various alternative technologies for bicycles. Currently, Vietnam's electric bicycles are more and more similar to motorbikes. Most have removed the pedals and no longer have the look of a "bicycle".
Electric power assisted bicycle concept
There are two general terms in English, one is the European version, called "pedelec". Is a combination of pedel (pedal), electric and cycle (bicycle). In English, the e-bike is "E-Bike", but this combined term is too broad and often includes e-bikes that no longer take the form of bicycles. Therefore, the name PAS (Power Assist System) was used in Japan, but it was used very early.
Origin of "Pedelec".
In fact, as early as a hundred years ago. People have begun to find a way to solve the problem of fatigue caused by cycling during commuting. Of course, such bicycles gradually disappear with pedals. The body is getting bigger and bigger, becoming the birth of motorcycles. Until the end of the 20th century, the world's first electric bicycle (Pedelec) was born. After that, Panasonic, Sanyo, Bridgestone, and Honda also launched similar technical products.
See more:
Bosch's mid-mounted Power Assist System
The center of global cycling culture. Europe saw the rise of Japan. Then Germany Bosch, BLOSE, Continental launched PAS (Power Assist System) respectively. To promote electrical support. popularity of bicycles (Pedelec) in Europe. Because there is a high technical threshold and human resources, in Japan and Europe. Automotive and battery related companies in general. Participated in the research and development of "Electrical Support System" technology. So it is very difficult for other companies to jump in.
PAS "Power Assist System".
For real electric power assisted bicycles (Pedelec) are only allowed to run in power assist mode. Must be hybrid power generation mode "human + electricity", not pure electricity mode. The reason why only power assist mode is allowed. It is a power-assisted transmission mode that effectively ensures driving safety and reliability. It also significantly increases the range of use of a single charge. It effectively avoids increasing the weight of the whole vehicle.
It also serves as a means of travel and transportation. The dual effect of the key body allows people to ride easily and go further while preserving the driving experience. Therefore, the pros and cons of "Power assist system" have always been the standard to measure the level of electric power assisted bicycles (Pedelec). This is also the most competitive area among businesses.
After about 20 years of development. Power-assisted electric bicycles have become popular two-wheelers in Japan. While the European market has grown rapidly in recent years. In 2015 alone, sales of electric power-assisted bicycles in the Netherlands skyrocketed by 24%. Germany also grew sales by 11.5%, while output grew by 37%. Especially in recent years. Sales of traditional bicycles in the European market continue to decline and the rise of electric power-assisted bicycles is even more anticipated.
Types of popular power-assisted electric bicycles today and the differences between them.
Electric bicycles in Japan used: "Force Assist System" with torque sensor at the core. Up to now, has been changed over many generations and still holds the leading position in the world; Germany is rapidly improving. Currently, it is basically comparable to Japan in terms of technology. There are many views that Germany has surpassed, after entering China. Electric-assisted bicycles have embarked on a different path of development. The core is "Electrical Support System" and buying Japanese and German systems is too expensive.
Above is some news that ADO E-bike wants to send to you. Hope this article will provide you with useful information.
The ADO E-Bike is a solid companion in urban living. We create products that provide a great driving experience on complex traffic conditions such as bumpy, rocky and uphill. All ADO products are designed to be environmentally friendly and comply with environmental guidelines.