News ADO
Exercise with bicycles during the Covid season
by Vy Nhat on Jun 08, 2023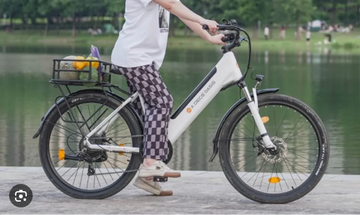 The COVID-19 epidemic is complicated in the world and in Vietnam, protecting health by strengthening resistance is one of the important solutions to prevent the risk of infection, in addition to other measures. such as wearing a mask, washing hands frequently with soap or water, etc., nutritional balance is the key to strengthening resistance. Actively strengthen resistance through nutrition and exercise to effectively prevent epidemics.
Power-assisted bicycle ADO A26S VEHICLE
Product reference:
According to the recommendations of the health industry, exercising and sports to exercise and improve health is essential in the "war" against the Covid-19 epidemic. With proper exercise in the "season" of the epidemic, People can also relieve psychological stress, anxiety about being infected, thereby helping to improve mentally and physically. Instead of practicing sports with a large number of people, cycling every day and following the rules to ensure the safety of yourself and the community is being considered an appropriate form of exercise.
So, what is the right way to practice for better health, then Fornix will suggest some ways for you to practice with Fornix to protect your health and overcome this Covid pandemic together:
1. Choose the right outfit
Most sports require comfortable clothing to have a great experience, cycling is no exception. Do not choose clothes that are too tight, causing a feeling of discomfort. However, clothes that are too loose will cause difficulties during cycling, cases of loose clothes getting caught in the bike are possible when moving.
We often forget small accessories such as gloves, knee protectors, etc., in the process of cycling, we can also have problems with falling due to the rainy weather and slippery roads. This accessory plays a very important role for us.
2. Proper cycling time
As in the previous article Fornix said, cycling every day is good, but with a time of about 30-45 minutes is reasonable for health. Experts recommend that adults ages 18 to 64 need at least two and a half hours of moderate-intensity physical activity each week to achieve and maintain good fitness. It is recommended to do at least 150 minutes a week of cycling to stay in shape, or increase cycling time to 30 to 45 minutes a day to lose weight and get many health benefits.. In addition, we also should supplement strength training with other exercises at least twice a week.
Cycling for too long is like sitting in one place for too long, which will make the blood unable to circulate. This causes unpredictable effects such as back pain, scoliosis and infertility in men...
3. Correct cycling posture
Cycling posture is very important, wrong cycling posture not only affects the training effect, but also very easy to hurt the body. For example, bowing forward, crooked back, hips... are all incorrect postures. While cycling, you must keep your back straight but comfortable, without straining or forcing. Avoid problems such as sitting in the wrong position, misaligned hips, buttocks, curvature of the spine or people who are too stooped forward.
4. Speed ​​when cycling
When you ride a bicycle at a fast speed, it means that you will have to breathe fast, breathe fast, so it will be easy to breathe in a lot of toxic air. And when you cycle at a slow speed, the time you are exposed to polluted air will be longer. One study found that the average speed of cyclists should be between 12km/h and 20km/h when cycling on flat roads. However, this speed can also increase or decrease depending on the age and gender of the rider.
The ADO E-Bike is a solid companion in urban living. We create products that provide a great driving experience on complex traffic conditions such as bumpy, rocky and uphill. All ADO products are designed to be environmentally friendly and comply with environmental guidelines.