News ADO
4 reasons why children should ride bicycles to school by themselves
by Vy Nhat on Jun 08, 2023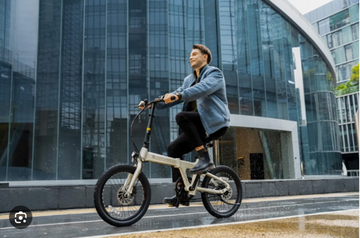 School bicycles are an indispensable traditional means of transportation during the 12 school years of a student's life. But today, due to the high traffic density, there is a lack of safety when children join the traffic on their own. Along with that, public transport or means of transporting students was born, forgetting that parents should let children ride bicycles to school by themselves. Children going to school on their own by bicycle will help them develop much more. The previous bicycle models all had a simple design in common, but today, with many different models and designs, bicycles are also "upgraded" with many modern details, suitable for personality. , the preferences of each age group.
ADO E-bike will point out 4 reasons parents should know:
1. Help children practice independence
When children ride their own bicycles to school, they will no longer need their parents to take them back and forth every day. In addition, cycling to school is also a way to help children become independent and master their own time and manage when problems arise. Many friends grow up very early, they can control their own lives, take care of their own lives, let children actively learn from friends, it is as simple as starting to self-study. !
Many parents are afraid of the traffic situation and always take their children to school every day. The frequent pick-up and drop-off of children creates the habit of relying on and relying on adults. Therefore, instead of just taking care of and covering their children, parents should teach their children about road traffic laws as well as how to drive safely so that they can walk on their own.
2. Help children increase height
Cycling helps to grow in height very well, especially in children of developmental age . According to the research of experts, children riding bicycles from 3 to 6 hours per week are completely beneficial for height development, because leg muscles will be continuously stretched, legs are stretched, which means growth. faster of the legs, helping to increase the child's height.
Product reference:
3. Help children increase their ability to observe and remember
It is a fact that children who know how to ride a bike from an early age, their ability to observe and learn is also faster. The reason is because when riding a bicycle on the road, children need to look ahead, look behind, pay attention and observe people and things around. This is very beneficial for the child's worldview.
Studies show that exercise, including cycling, helps blood flow to the brain and blood still increases immediately after cycling, helping the brain work better so it remembers more deeply. . This is very useful for children of school age, children will remember the teacher's words longer and memorize the lesson faster.
4. Help save time for parents
Parents always have to remember the time to pick up and drop off their children every day, and at the same time do many things in the house, but also have to take the children to school. Meanwhile, children are completely dependent on their dependent parents. So why not choose to teach your children how to drive safely so that they can go to school on their own, so that you have more time to handle work at the company, do housework, take care of food and take some time to take care of yourself?
Let children go to school on their own by bicycles , they will surely bring a lot of benefits to children and help them retain memories of their school days with bicycles.
Here are some typical bicycle models for children to school depending on age:
ADO A20 Air folding power-assisted bicycle
Power bike ADO A20 Air
The ADO A20 Air power-assisted bicycle is suitable for children with a height of 1m2 to 1m4. With a new, dynamic and healthy sport design, children love cycling and confidently explore the world around them.
The bike is equipped with a front and rear V-brake system to help children control their own speed, it is always safe to ride a power bike and you will also feel more secure when letting your child have fun with friends.
ADO D30C . terrain power assist bike
ADO D30C terrain power-assisted bicycle model with a strong and aggressive design, outstanding with youthful color versions, suitable for young people's tastes. This model is suitable for students from 2nd to 3rd grade. R24's frame is made from super-strong steel alloy that provides good bearing capacity, increasing the life of the vehicle. The overall size of this mountain bike is suitable for those with a height of 1m48 - 1m60.