News ADO
Ride a power-assisted bike alone
by Vy Nhat on Jun 08, 2023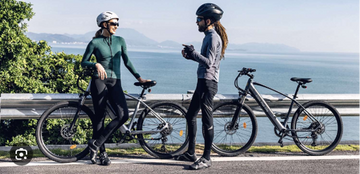 Life revolves around fast and busy, leaving us not much time to stop and rest. Sometimes when the mood is not good, tired, we often want to go somewhere far away to relax and relieve stress. Young people especially like to go hiking. Recently with the advent of bicycle groups, the trend of cycling by bicycle is increasing.
Some people like to go hiking with friends, some people like to be alone. Going on a long trip always finds hidden difficulties and dangers, especially if you go alone. So be equipped, prepare everything before going.
Here are a few things you need to remember when going solo.
Traveling alone by power bike ADO D30C
 Product reference:
1. Safety always comes first
You are traveling alone, so you need to pay attention to safety. When traveling in a crowded area, you should pay close attention when moving. Do not go on the deserted roads or dangerous forest roads. If you go at night you have to pay extra attention.
2. Check in advance the route you will go and the weather forecast for that day
Find out the route that you will go, because you are alone, so if you do not find out carefully, the problems and difficulties that occur along the way will be very difficult to solve. Learning the way ahead will help you avoid going into the deserted roads, dangerous forest roads.
You also need to see the weather forecast for that day in advance, if it rains you should equip a raincoat. If it's sunny and hot, you should bring a lot of water, or change the travel time. For example, you can go earlier in the morning, until the air temperature rises, you can pull over somewhere to avoid the sun.
If you go on a long trip, don't forget to bring a pair of glasses to avoid dust and insects flying into your eyes.
3. Prepare enough water and food to bring
Traveling with a power-assisted bike alone, you must prepare everything to ensure when needed. And food and water are indispensable.
If in the hot season, the high temperature makes the body easy to lose water. If you go in the sun for too long, it can lead to heat stroke and heatstroke. To avoid this situation, you should prepare enough drinking water. At the same time, you should not let your body get too hungry because it will lose strength. On the side of the sport bike or mountain bike , there is a place to attach a carry-on water bottle.
If you feel tired, you should stop and rest, do not try to continue running. Always make sure your health is in good shape. In this season the weather is relatively pleasant, but sometimes it rains. But around April-May the weather will be very hot, the air temperature will rise. You should pay more attention to the weather in this season.
4. Check the car and prepare the repair kit
Vehicle safety check is one thing you need to do before you set off. Inflate the wheel, tighten the screw, adjust the saddle to fit the body, check the brake, ...
Along the way, there are always unexpected situations that happen that we do not anticipate. One of the problems that makes you easy to encounter is car damage. But if you are going on an empty road without any car repair shop, it cannot be repaired. Therefore, you should bring a car repair kit to handle such situations.
5. Check your phone
When you go on a trip alone on deserted roads, few people pass by, it will be very difficult. When you encounter difficulties and dangers, there is no one to call for help, ask for help. So make sure your phone always has a battery and is in touch with everyone at all times.
Or you should bring a backup charger. Remember to make sure your phone or electronic devices are protected from rain or water.
Fully prepare everything to have a smooth trip with your beloved bike .