News ADO
Tips for riding a power bike in the dark
by Vy Nhat on Jun 08, 2023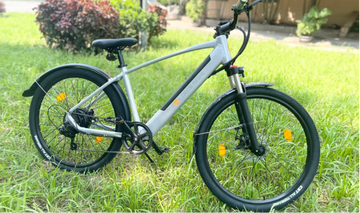 The wheel is still rolling, the sun is already dark. The sunset doesn't mean we stop our journey. However, cycling into you at night still has some dangers, so you should pay extra attention.
At night, when there is no longer sunlight, the surrounding space becomes darker, this affects our vision, the ability to see is reduced. In addition, human vision at night is worse than during the day, so it will be very dangerous if you drive at night without any equipment or preparation.
The following are the notes that ADO E-bike wants to send to you if you ride a bike at night.
Product reference:
1. Add a flashlight
To increase the light to make it easier to see everything, you should install a flashlight on the car to illuminate the road. In front of the car you should install a flashlight to see everything in front of you, on the hat you should also equip a light to illuminate where you look when turning your head left or right. On the other hand, you should also install a small flashlight on the back of the saddle so that people behind you can see and determine your position, in order to avoid collisions.
Flashlight is an indispensable tool for your night bike rides, especially when riding a few nights. When preparing to go on a long bike ride, you should check the flashlight carefully, in case it burns out.
If you ride a bicycle at night in the city, the space is better lit by street lights, but you also need to equip yourself with rear lights so other traffic can see and avoid you. Due to the heavy traffic in the city, you should observe the car carefully when moving.
2. Vehicle inspection
Whether traveling during the day or at night, before going out, you should check your vehicle to ensure it is safe to travel, especially when you join a long trip by bicycle. Friction of wheel, hand brake. Tighten screws, saddles, collars, etc. Inflate the wheels before going.
If you travel with a power-assisted bicycle, you should prepare a car repair kit to bring in case the car breaks down or malfunctions.
Sports power bicycles and terrain powered bicycles are two types of vehicles suitable for long trips. These two vehicles often have a place to install a water tank
3. Use protective gear
A helmet is an indispensable item when cycling on the road. Wearing a helmet helps you avoid head injuries in the event of an accident.
If you ride a bike at night, you should prepare yourself an extra set of hand and foot protectors to avoid injury to the knee and elbow joints. Remember when cycling in the dark, you should wear clothes with outstanding colors at night, clothes or reflective straps so that others can easily see when it is dark.
If there are no lights, no recognition clothes, it is very difficult for other vehicles to see you.
There is no rain this season, so you do not need to bring a raincoat, but when it comes to the rainy season, you should bring a raincoat to avoid getting wet.
4. Find out the route to go
Knowing in advance the route, the route that you are about to go is a measure of your safety whether you are cycling during the day or at night. Cycling at night is very dangerous, so you should slow down, observe carefully, avoid potholes and potholes on the road.
If you cycle in the city at night, you should pay attention to avoid traffic jams if possible. And if you take part in a night trip, you should find out in advance how the situation is on that road to avoid going on the wrong roads.
Whether cycling at night or during the day, you still have to remember one thing "Safety first"!!! Hope you have a great time cycling.