News ADO
How to teach children to learn to ride a bike
by Vy Nhat on Jun 07, 2023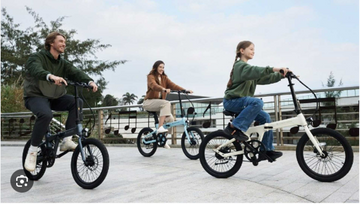 As a parent, you always want to give your child the complete physical and mental development. Then don't hesitate to spend time outdoors with your kids, like riding a bike every day. Cycling is not only an effective exercise, but also a key to bonding among family members. Let's learn with ADO E-bike how to teach children to love cycling!
Many parents think that just buying children's bicycles for their children is enough. However, just buying is not enough, parents also need to learn to be able to choose a bike that is suitable for their child. Children's bicycles are divided into 4 types: 3-wheel bicycle, balance bike, bicycle with walker, regular bicycle
Depending on each age, parents choose children's bicycles with designs suitable for children. According to ADO , the balance bike line is the ideal bike for children's first challenge, they will start with the challenge of keeping a good balance, stronger and bolder.
Product reference:
Another thing worth noting when choosing a children's bike is the handbrake. This will ensure the child is safe from any unexpected situations, as well as train the child to react quickly.
Teach children to be responsible with their bicycles:
Children often feel more love and patience when practicing on their bike. Therefore, parents can bring their children along when choosing a bicycle as their companion. Let's discuss together to choose a bicycle, so that the child's enthusiasm for bicycles will last longer.
Then teach your children how to hold the steering wheel as well as take care of the car, helping to build the habit of taking good care of their items.
Teach your child how to ride a bike:
You can show your child how to hold the handlebars and carefully step over the side of the bike (for sport bike designs). Let your child practice through it once or twice. With this, parents have taught their children to be independent without being dependent. And parents will also be much more relaxed during weekend cycling activities with their children.
Get used to cycling exercise:
Teach your child how to get into the pull position: Hold the bike handlebars with two hands, face forward, and place your feet on the pedals at a 45-degree angle to pull. To ensure safety, parents should advise children not to let go of the handle.
During the process of getting a child's bicycle, parents need to spend a lot of effort to teach their children to balance and ride a bike, by keeping behind the saddle and following the child. After practicing, parents can slowly release their hands.
Teach your child how to use the brake to stop the car instead of touching the ground. This will show your child how to stop with the handbrake, then put one foot down to prevent a fall before getting off. This will minimize falls during the child's training.
Do not forget to give positive comments to children:
Learning to ride a bike is a long training process through which you will effectively discover your child's personality.
Some children will become bolder, while others will be more cautious. And regardless of personality, along with words of encouragement from parents will also make children feel more confident when conquering these challenges. And this is also a way to help parents make friends with children easily.
The ADO E-Bike is a solid companion in urban living. We create products that provide a great driving experience on complex traffic conditions such as bumpy, rocky and uphill. All ADO products are designed to be environmentally friendly and comply with environmental guidelines.