News ADO
For comfortable cycling in summer
by Vy Nhat on Jun 07, 2023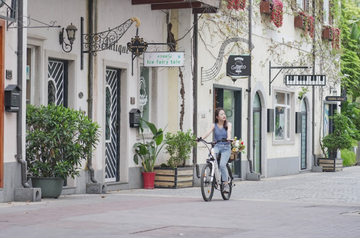 Cycling in hot weather makes you feel sluggish and uncomfortable. Let ADO E-bike tell you some tips to always stay mentally comfortable when cycling even in the summer!
Cycling in the early morning or late afternoon:
In the summer, the temperature often rises and the sun is more intense from 9 am to 3 pm, which is obviously not a perfect for sports power cycling.
Product reference:
Practicing cycling in the early morning or in the evening will be the ideal time for you to experiment with the feeling of wind and extremely comfortable speed. This is also the ideal time for us to practice sports, have a refreshing spirit for an effective working day or a walk to relieve stress after a long day.
Choose thin, light clothes:
One of the other priorities in summer sports cycling is choosing thin and light clothes. Thin clothing will trap less heat as well as more airflow.
Product reference:
While the soft colors will reflect sunlight and prevent the process of absorbing heat. With the improvements in quality, you can choose for yourself a high-quality product line, which is treated with coldback so that the clothes are dark but not too hot.
Even if you've chosen lightweight clothing and still feel too hot, you can unzip your shirt to allow air to circulate more easily inside your body. The airflow will help you evaporate sweat effectively.
You should choose for yourself high-waisted pants to effectively cool your body.
Use of electrolyte water:
During exercise, the hot sun and high temperatures make your body lose more water. So, regularly replenish your body with water 2 bottles/hour to avoid dehydration.
Excessive dehydration leads to hyponatremia (also known as water intoxication) which occurs when the salts in the blood are diluted. Hyponatremia is more difficult to treat than dehydration, more dangerous, can lead to death.
Combined with a break:
One of the great things about the folding power bike line is that it gives you an enjoyable experience between training and relaxation.
Folding power-assisted bicycles are extremely convenient because of their compact structure, you can take them with you to meet friends, go to work by public transport because they can be folded.
Have you ever tried the experience of traveling with your folding bike? When you can spend a lot of time exploring small alleys, unfamiliar roads at a gentle pace.
Cycling is a good habit, training and helping the body to relax after stressful working days.
The ADO E-Bike is a solid companion in urban living. We create products that provide a great driving experience on complex traffic conditions such as bumpy, rocky and uphill. All ADO products are designed to be environmentally friendly and comply with environmental guidelines.