News ADO
Methods to improve your cycling skills
by Vy Nhat on Jun 08, 2023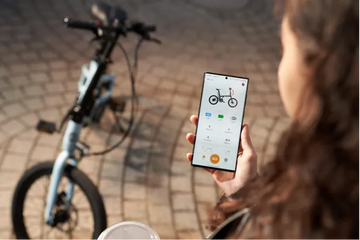 Even though you have practiced for a long time, you are still not satisfied with your pedaling technique. You want to improve your speed and health for road cycling. Let ADO E-bike help you find ways to improve your cycling technique!
1. Pedal hard uphill
One of the ways to increase endurance and strength during cycling is to conquer the hills. You can start from the small slopes near the house and then go to conquer the hills with increasing height so that the body can best adapt.
Learn about your hill climbing skills and learn about your steed's specs for maximum pedaling performance! With D30C with modern equipment and powerful parameters ready to accompany you on different terrains.
2. Drop downhill with speed
During the descent, what you need to keep in mind is that the speed should always be under your control as well as minimize the use of the front brake.
It is no coincidence that mountain biking becomes a sport that requires high concentration and the benefits that cycling brings to the practitioner. You always need to be highly focused forward to be able to ensure your body has the reflexes as well as the decision to brake the car in front of obstacles effectively. In mountain biking, you should choose safe routes or participate in a pre-terrain survey to make your journey safer.
You need to use the correct wheel ring so as not to consume a lot of energy as well as lose balance. Especially when it comes to balancing at corners, the technique to pay attention to here is that the outside foot needs to be on the bottom and you need to put your body weight when pedaling when you are leaning into the corner.
3. More difficulty after each journey
You may just be stuck in the same place when you're working out less than 1 familiar exercise, so don't hesitate to increase the difficulty of your workout. Specifically, you can increase 10 minutes of daily practice, or increase 10m in the way you conquer or reduce the time to …
Product reference:
4. Improved handling of situations during pedaling
You need to observe and feel during the cycling journey to be able to draw up ways to handle the situations that will arise during exercise, especially you need to pay attention to the shock absorption system of the bike. You'll learn to control your bike experiences as they move across sandy, muddy, wet or hilly terrain so you can react in time.
Currently, the range of racing and mountain bikes at ADO are always equipped with high-tech shock-absorbing systems to help you experience not only speed but also bring great health experiences for you. user.
5. High concentration
Cycling with different intensity of exercise but always requires good concentration and observation from the cyclist. You need to minimize the number of accidents that will happen on the road through focusing when pedaling because technique is not enough.
6. Full energy for the body
You should eat a light meal 30 minutes before the workout to avoid energy exhaustion as well as abdominal pain during exercise.
7. Take a reasonable rest time
Proper rest after exercise helps your muscle groups to recover at their best. You need a combination of training time, rest time and a scientific diet to be able to achieve lasting training results. Do not force yourself too much because that easily causes serious injuries as well as body fatigue.
You can completely improve your cycling technique according to each small goal and maintain the spirit of conquest so that you can make the most suitable changes for yourself.
The ADO E-Bike is a solid companion in urban living. We create products that provide a great driving experience on complex traffic conditions such as bumpy, rocky and uphill. All ADO products are designed to be environmentally friendly and comply with environmental guidelines.