News ADO
Accessories for sports power bicycles
by Vy Nhat on Jun 07, 2023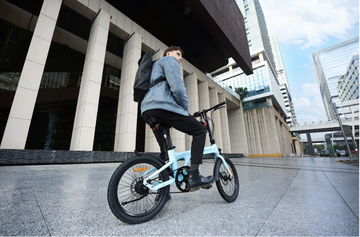 For those who are passionate about sports power cycling, the preparation of attached accessories is indispensable. Let's take a look at ADO E-bike through accessories for sports power bicycles!
Helmets:
Helmets in sport cycling are extremely important, they will give you a sense of confidence and safety in all your journeys.
At ADO E-bike, helmets are not only focused on youthful and dynamic design, but also prioritize DURABLE - SMALL, suitable for everyone and with any selected terrain. From sporty designs, to modern hats for power-assisted bicycles in the inner city…
Product reference:
With a design of many holes with ventilation effect at the top of the head, helping your body's moisture during exercise will escape quickly, providing a feeling of ventilation and comfort. Especially for oily skin, the sweat of the head often brings an uncomfortable itchy feeling.
Flexible headband, can be adjusted to fit many different head circumferences. With high-quality materials, youthful colors, ADO helmets always bring you absolute satisfaction.
Speedometer:
Speedometers are quite popular among sports bike enthusiasts. Helps you to record running speed, mileage and running time. Helps you track your progress and create an effective long-term exercise plan.
On the market, there are many different types of watches with their own advantages and disadvantages such as bearing capacity, water resistance, measuring body temperature, heart rate, etc. Depending on your individual needs, you can choose. Choose the right product line for you.
Lamp:
Whether cycling, car lights still play an important role for your travel, especially on roads without street lights at night.
You can choose the lights with compact design. Should choose a line of LED lights with stable light mode, far and wide light vision to help you ride in dark conditions more safely when the person behind you can determine the safest distance.
Buckle:
To always ensure the safety of your beloved bike from being led by others, self-locking is indispensable. Choose the compact, convenient chain locks, you can easily take them everywhere with your bike.
Mini hand pump:
In the journey to conquer new terrain, carrying a compact pump will help you handle all unexpected problems of tubes and tires.
There are pumps with pressures up to 100psi perfectly suited to a variety of wheels that you can equip your whole team with.
The ADO E-Bike is a solid companion in urban living. We create products that provide a great driving experience on complex traffic conditions such as bumpy, rocky and uphill. All ADO products are designed to be environmentally friendly and comply with environmental guidelines.