News ADO
What you need to know about using a helmet when cycling
by Vy Nhat on Jun 07, 2023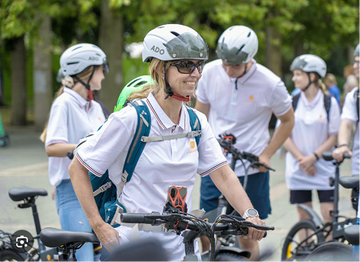 A helmet is one of the important accessories that come with a sports bike, a dirt bike or even an urban bike. The reason is that it helps you protect your head against collisions, or falls during exercise. So how can you choose a quality and safe helmet? Find the answer with ADO E-bike right away!
Selection of high quality helmets:
To ensure the process of sports training, and conquering speed with sports racing bicycles, you should give priority to choosing helmets that have passed national safety certification testing standards.
With the latest helmet line at ADO E-bike with high safety, sporty design. Currently, ADO 's hat line also offers outstanding features with goggles, easy to use for everyone, even when nearsighted.
Product reference:
Vents on the hat:
With high physical activity such as cycling, racing, the ventilation of the helmet is extremely important. They ensure that during your operation, the scalp is not blocked, always dry, limiting scalp dandruff.
However, that is not why you should choose hats with many ventilation holes, because the equivalent of too many ventilation holes, the head will be exposed a lot, the level of safety protection of the hat is also limited. go away.
Hat part:
It seems innocuous, but the buckle and strap of the helmet for sports such as mountain biking and racing bikes always need to be able to withstand a certain amount of force, durable.
Therefore, you need to have the quality check of the hat you choose, to make sure that even when the buckle and rotate part is also high quality, it is not easy to get loose during movement.
Helmets intact:
Do not underestimate the cracks in the cone, it can reduce the bearing capacity and efficiency of force distribution in the physical structure of the cone.
In addition to the problem of cracks caused by collisions and falls, the regular time for sports participants to change their helmets is every 3 years.
Besides, factors such as sun, rain and sweat also cause your helmet to corrode and its accessories to fail, reducing the life of the helmet.
The ADO E-Bike is a solid companion in urban living. We create products that provide a great driving experience on complex traffic conditions such as bumpy, rocky and uphill. All ADO products are designed to be environmentally friendly and comply with environmental guidelines.