News ADO
Things parents should avoid when teaching children to ride a bike
by Vy Nhat on Jun 07, 2023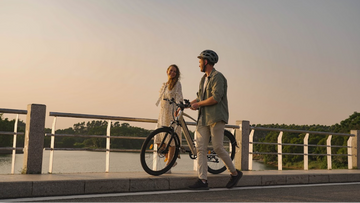 Teaching children to ride a bike can be said to be simple, but it is also difficult for parents. Let's learn with ADO E-bike about the mistakes parents need to avoid in the process of teaching children to make friends with bicycles below! Let each child's journey to conquer challenges be a joy!
Practice on the road
Obviously, this is not an ideal place for children to practice safely. Because on the way, there are many vehicles participating in traffic, along with unexpected cases that will happen, but the baby cannot react quickly, inadvertently leading to unfortunate accidents.
Product reference:
If there are amusement parks around your house, do not hesitate to walk with your child every afternoon, or spend weekends with your children to practice at parks with many trees. This is also considered an opportunity to help you become closer with the children, as well as help yourself feel relaxed after a stressful working week.
Training with the wrong bike
Choosing a bike with the right size and height for children contributes to helping children feel more confident and safer when riding for the first time.
Choose a bike that is appropriate for your child's height, can let his feet touch the ground and his hands can easily hold the handlebars.
Old car training method
Many parents wish to save time when cycling with the auxiliary wheel, but this is a less effective method than the methods of balancing and gliding with feet.
Another method is for parents to hold the bicycle, a combination of pushing and running alongside the child. This method actually does not bring about high efficiency as we expected, because running along the bike will make the bike wobble and the child cannot keep his balance. Do not hesitate to choose a safe place and let your child conquer this challenge on their own.
Do not put too much pressure on the child
Putting too much emphasis on the desire for children to be able to ride a bike in a short time will reduce their enjoyment of this challenging journey. Giving your child time to practice and practice at his or her own pace will help him be careful and confident.
When children are just starting out with falls, they tend to get bored easily and want to give up. So, at this time, let your child feel very excited about cycling when cycling with them on weekends, let them join in making new friends… that will encourage them to be strong. Dare to love this bike sport more.
With cycling, you are giving your child a great gift of health and intelligence. Please contact ADO E-bike immediately to give your children the best!
The ADO E-Bike is a solid companion in urban living. We create products that provide a great driving experience on complex traffic conditions such as bumpy, rocky and uphill. All ADO products are designed to be environmentally friendly and comply with environmental guidelines.