News ADO
Things you need to know when traveling with a mountain bike
by Vy Nhat on Jun 08, 2023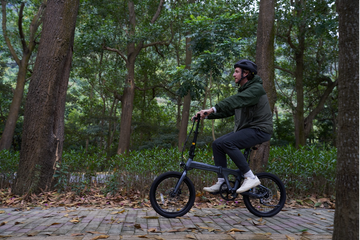 Cycling has become popular recently, especially with the advent of groups, as well as plans to go on a road trip with a mountain bike or a sports bike. Here, ADO E-bike will share with you what you need to know when going on a road trip with a terrain powered bicycle, a sports power bike for everyone to have the most perfect experience!
1. Choose a location
The interesting thing about traveling by sport bike, mountain bike is an interesting experience, this is an opportunity to help you blend in with nature, and take a close look at the local scenery you come to. It will no longer be interesting if the place you choose is mainly a car, causing inconvenience when traveling.
Power-assisted bicycle ADO A26S VEHICLE
Product reference:
You have a choice of trails, some of which have mountains with moderate slopes to conquer and challenge yourself.
2. Pass from the left
Passing someone slower than you on the trail is always a matter of safety. To ensure that the trip takes place in a happy atmosphere, before passing you need to carefully observe the road ahead, and signal to the driver ahead by using a sign or with a horn.
3. Prepare necessary items
During your journey, you will not be able to avoid unexpected situations, such as a deflated wheel. So don't forget to bring your hand pump!
Necessary tools when traveling with power-assisted bicycles
In addition, you should also learn about the problems your car will encounter on the road and how to fix it. So that your journey is not interrupted because of unnecessary car errors!
4. Dirt and insect problems
With your high-speed journey to conquer, you also need to equip yourself with protective eye and mouth protection such as glasses, backpacking towel... to avoid unexpected "collision" from dirt and dust. insect.
In the summer, your legs and arms easily become favorite spots for insects. It will not be superfluous to equip yourself with skin protection lotions.
5. Other things you need to keep in mind
Prepare yourself with enough water, to ensure that your body is not dehydrated when cycling continuously for a long time
In addition, you should still add in your backpack protective items specifically for injuries that may be encountered during your journey.
Practicing sports with sports power bikes, terrain powered bicycles always gives you extremely interesting experiences, the feeling of freedom and freedom. Many celebrities have chosen sports bikes to relieve stress along with strength training, thereby increasing creativity and concentration.
The ADO E-Bike is a solid companion in urban living. We create products that provide a great driving experience on complex traffic conditions such as bumpy, rocky and uphill. All ADO products are designed to be environmentally friendly and comply with environmental guidelines.