News ADO
Cycling experience in the rainy season you need to note
by Vy Nhat on Jun 08, 2023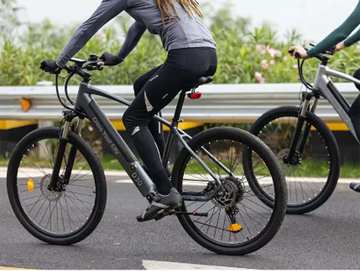 As a cycling enthusiast, it must be very difficult for you to stop your journey every time it rains. Don't worry, let's pocket the following experiences with FORNIX so that you are always ready for the journey right in the rainy season! In each different weather, we will have our own interesting experiences, especially for those who love to ride sports bikes.
1. Waterproof jacket
A waterproof jacket will keep your body dry, avoid moisture and help you regulate your body temperature effectively.
In addition, investing in a quality waterproof jacket gives you good circulation, which can be used well even in the hot season.
Product reference:
2. Gloves
One of the direct effects of rain is that your limbs are cold, becoming stiff and no longer flexible, causing extremely uncomfortable sensations. Gloves are essential to protect your hands.
Choosing a waterproof type combined with a jacket will help you have the best experience in the rainy season.
3. Equipped with fenders
As for sports bikes, mountain bikes with specialized wheels often lead to a situation where the mud is shot up when moving.
Although the fenders can be a bit unsightly and make noise during travel, they are really necessary, especially in the rainy season, to ensure your back, head and clothes are not soiled. .
4. Wear a hat inside
As for helmets for mountain bikes, sports bikes are often designed with convenient ventilation holes to help dissipate heat effectively, but in the rainy season you need more – an inner hat.
In the rainy season, the hat will act as a protective layer for your head and eyes against the direct impact of rain water as well as direct sunlight from the sun. You can choose a waterproof cap line to protect your eyes from rain water hitting your face.
5. Clean the chain
In the rainy season, chains often get dirty quickly along with wet water, which can easily cause oxidation, making them quickly damaged.
Use a degreaser for your car, then wipe it with a dry towel to increase the life of your bike as well as to make your pedals smoother!
6. Car lights
Rain makes people's vision often narrow a lot, especially for those who are nearsighted. Therefore, the addition of car lights is extremely important, deciding your safety when traveling on the road.
In addition, you can choose bicycles that are equipped with reflectors to help other vehicles identify you are moving on the road. With sports power-assisted bicycle products, new terrain-assisted bicycles at FORNIX are always focused on equipping with reflective panels both front and rear of the bike to help you comfortably enjoy your cycling experience.
7. Avoid puddles
When you go through standing water areas on the road, this not only makes you wet, but they also bring other potential dangers such as potholes, rocks, or a deep hole… They will bring troubles to people. you as well as the companions behind when unexpected trouble occurs.
For your own safety, watch the person ahead of you in front of the puddles and stay away from them!