News ADO
How to lose weight effectively while cycling?
by Vy Nhat on Jun 08, 2023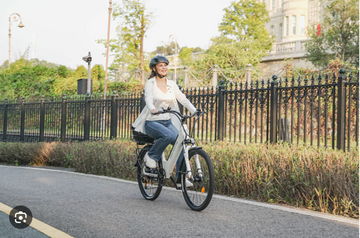 If you choose the cycling method to have a more beautiful and toned body, don't miss the following tips from ADO E-bike.
1. Set specific goals for yourself
The truth is, when you don't set a specific goal, it's going to be difficult to pursue them to the end. And so is cycling to lose weight, you need to set yourself more specific goals, the faster you will achieve what you want.
Power-assisted bicycle ADO D30C
Product reference:
You can choose to start your goal with "Body Mass Index" or BMI – a ratio based on your height and weight. The more specific you give, the more you will know how long your workout will take and how much energy you need to burn each day.
You should not only focus on losing body mass, but instead need to maintain a balance between muscle groups as well as body fat percentage to ensure your body is always maintained in the best state.
2. Training by road cycling method
Cycling at a moderate pace on the road will help you burn fat in the body effectively. Normally, your heart rate needs to be maintained while pedaling at between 68-79% of your highest heart rate. Staying at a specific speed will help you get the most out of it.
You can put in a 30-minute workout every day and increase it according to your ability. You can choose for yourself the FORNIX FR303 sports bike, with its trendy design and modern specifications for a great cycling experience.
3. Cycling to work
One of the ways to help you persevere with your daily workout is to use a bicycle as your daily means of transportation, which helps you keep going and keep trying.
In a recent study at the University of East Anglia and the Diet and Sports Research Center, people who chose to cycle as an alternative to public transport lost 7 kg over the course of a year (with increased intensity). 30 minutes/day).
Cycling also helps you improve your concentration, creativity as well as reduce stress to help you work more efficiently. For women, you can choose for yourself a Prava folding bike with a compact and convenient size.
4. Get enough sleep
Many studies have shown that our body needs 6-8 hours of sleep every night, which not only helps improve the body but also helps you lose weight effectively and avoid stress.
Research also shows that people who don't get enough sleep at night often feel hungry quickly and always don't feel enough with what they eat, which is the cause of overweight.
After cycling, you need to take time to recover and regain strength for the next day's journey. Thanks to the link between exercise and rest will help you improve your quality of life better.
5. Arrange training time more flexibly
You can build yourself a flexible training regimen with many different sports to make the training process more exciting.
You can choose to cycle to the park and play badminton, soccer or jogging, this is also one of the methods to help you improve your health significantly. And don't be surprised because there are still such matching competitions taking place around the world.
6. Eat less and divide into many meals
This is also one of the important tips that significantly affect the weight loss process, you can't starve to skip meals, but you shouldn't eat more than your body needs, and it's often difficult for us to control how to start eating. my favorite food. Therefore, divide your meals with a moderate amount to always be able to meet enough energy for the body and not lose control.
7. Cycling before breakfast
Cycling in the morning is an ideal way to start your day more effectively and lose weight. Your body will use up the energy that the body has previously stored for this activity. So you will not be overcharged with energy in the body.
You can cycle 30 minutes before breakfast, if your journey is longer, you can recharge with some energy but limit cakes and fast food!
The ADO E-Bike is a solid companion in urban living. We create products that provide a great driving experience on complex traffic conditions such as bumpy, rocky and uphill. All ADO products are designed to be environmentally friendly and comply with environmental guidelines.