News ADO
Tips to help women love cycling every day
by Vy Nhat on Jun 08, 2023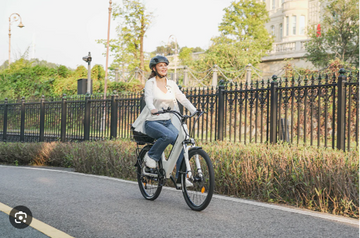 Cycling is an extremely good physical exercise for women's health and physique, especially for the prevention of many diseases, including cancer. Let ADO E-bike tell you the following extremely useful tips so that you can choose a bike for daily use!
1. Choose the right power bike for you
Whoever you are, ADO always gives you advice on choosing the right bike for your body shape and daily needs.
The right size bike frame, the right saddle and handlebar height will give you a comfortable experience. Bicycles designed for men and women are similar in design, but the structure of each part has changed to best suit the physique of women.
Product reference:
Besides the light, modern street bikes, you can choose sports power bikes, terrain powered bicycles if you love high speed and are passionate about conquering the terrain. Women can now conquer the world with unlimited passion, right?
2. Selection of cycling pants
One of the important evaluations for your ride is smooth and comfortable is through training gear, especially cycling pants.
Cycling pants with padding will help you ride more comfortable. A small note that you should not wear an extra layer of small pants inside your cycling pants, because they will cause scratches and burning pain in the intimate area.
3. Fully equipped with accessories
As you plan your itinerary, don't forget to stock up on essential accessories too! Thus, it will help you enjoy your trip better, especially don't forget the wheel repair kit, so that you can be completely proactive before unexpected situations will occur on the road.
In addition, the accessories that you cannot ignore are gloves and socks that can be changed when sweating a lot. In the rainy season, you should prepare a handy raincoat. And no matter what time of day you ride, prepare water and snacks to replenish energy in time!
4. Check tire pressure
When the tire pressure is right, the risk of tire breakage is reduced even on rough and gravel roads. Each wheel has a symbol to help you identify the exact pressure to pump for the wheel.
Do not hesitate to learn from the experiences of those who have gone before, through the exchange of new knowledge and skills you will feel more interested in cycling.
5. Cycling posture
Correct cycling posture will minimize injury for you no matter what the terrain. Try to relax your shoulders, and adjust the height of the saddle to match your leg length.
Do not forget to always use a helmet when cycling to increase your safety when participating in cycling! Choose a helmet that is the right size for your head circumference and is sturdy.
6. Make friends and find companions
Cycling alone will be fast, but having many friends will make your journey more fun and longer. In particular, through cycling, you will have more new relationships, confidence in communication and through that you will easily stick to a long-term training plan.
To have good health and enjoy a better life, do not hesitate to contact ADO E-bike so that we can help you choose the right bike for you!
The ADO E-Bike is a solid companion in urban living. We create products that provide a great driving experience on complex traffic conditions such as bumpy, rocky and uphill. All ADO products are designed to be environmentally friendly and comply with environmental guidelines.