News ADO
Tips to help you improve your cycling technique
by Vy Nhat on Jun 07, 2023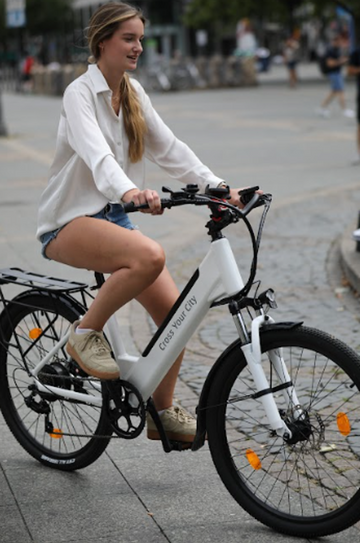 Grasp the upper handlebar
According to habit, many people still often hold the upper handlebar for racing bikes. Don't forget also that air resistance will make your cycling efficiency significantly reduced compared to when you hold the handlebar at the bottom, at which point you can switch to a smaller, faster RPM with same pedal force
Product reference:
You can adjust your posture to adapt to the bottom handlebar position, which will help you get faster, and save energy effectively to be able to conquer longer distances.
Use the win later
The front brake helps you to slow down or stop the vehicle quickly and efficiently. But for new cyclists, there is a habit of using the rear brake, thinking that it will be safer.
However, even when you are traveling on roads with a gentle slope, not too high, using the front brake is always safe for you when you always keep your butt on the light saddle, and use the brake. lightly. Therefore, to form this habit, you need to practice regularly to be able to achieve the highest efficiency.
Running too far from your companions
Joining cycling with groups that love bicycles is one of the effective methods to help you increase your practice, and improve your cycling skills.
In addition, when cycling in groups, it also reduces wind resistance to make our journey easier. This benefit is directly proportional to the distance between you and the rider in front, with the closer the distance, the greater the benefit.
Sprint training
Sprinting is a process that requires a lot of skill, specifically your handlebars should only be on the upper and lower handlebars, whether your leg strength is sufficient, your endurance, and your handling skills. Is your actuator adjustment situation reasonable?
Therefore, to improve your cycling skills in each of your training sessions, you should also spend a distance of 100m to sprint. Through that, you will also help you take measures to deal with unexpected situations.
Cycling too often
For those who are new to cycling, they often want to improve their training skills along with more advanced, so they often spend all their time practicing. However, cycling is a subject that requires long-term practice, if you practice too often at high intensity without proper rest, your muscles will be tired and sore.
If you really love cycling, you can combine high-intensity training with relaxing cycling for the best body recovery.
The ADO E-Bike is a solid companion in urban living. We create products that provide a great driving experience on complex traffic conditions such as bumpy, rocky and uphill. All ADO products are designed to be environmentally friendly and comply with environmental guidelines.