News ADO
Tips to help you maintain endurance when picnicking with power-assisted bicycles
by Vy Nhat on Jun 07, 2023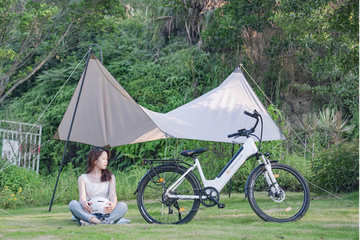 The long-term holidays are approaching, and you're planning a field trip with an exciting sport power bike or off-road power bike. Let ADO E-bike give you tips on how to have a proper bicycle picnic and bring about energy-saving effects and keep your spirits up!
Keep the pedal steady
When you put in a lot of effort right from the start, you will gradually burn out and the speed will be significantly reduced on the later track. So keep your breath deep and relaxed. Always keep your heart rate below the limit when you start climbing
When you catch the rhythm, slowly increase your strength until you reach the limit, until the last 200m you need to pedal to the maximum.
Product reference:
Right from the start, you need to have a smart strategy, so you will always have enough energy to go through your journey with a relaxed spirit.
Keeping your butt in the saddle is key
There will be 5% more energy consumed when you tiptoe or stand while climbing compared to sitting still in the car.
When you stand and bring your butt back to the nose of the saddle, the weight from your back and thighs is on the elbows. Shifting weight puts more weight on the front tires and loses traction at the rear. So, to reduce unnecessary burdens, you should practice sitting on the saddle when moving!
Relax the upper muscle group
In order not to waste energy you need to learn how to relax your upper body, specifically the elbows are slightly bent up.
If your elbows are near the lats under your armpits and your scapulas are tight, they'll interfere with your breathing.
Use the correct gears.
As for the design of the mountain bike , sport bikes often have multiple gear levels to suit different types of terrain. Therefore, you can completely adjust it to suit your needs, through small adjustments will help you save energy as well as contribute to accelerating the speed and average life of the vehicle. .
Small wheels are suitable for continuous pedaling and do not use too much force. With large wheels to help reduce speed and keep the rhythm comfortably.
Deep breath
Cyclists often use only the upper half of their lungs for breathing, especially when climbing hills. This limits the body's ability to receive oxygen. When cycling, especially when climbing, you need to breathe deeply into your abdomen, filling up the amount of oxygen in your lungs to help you stay calm when climbing.
In addition, to improve the efficiency of power when cycling, you should reduce your body weight and exercise regularly to exercise endurance for yourself.
The ADO E-Bike is a solid companion in urban living. We create products that provide a great driving experience on complex traffic conditions such as bumpy, rocky and uphill. All ADO products are designed to be environmentally friendly and comply with environmental guidelines.