News ADO
The correct technique of power-assisted cycling
by Vy Nhat on Jun 08, 2023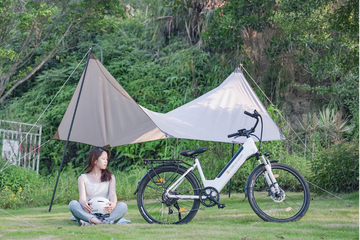 Cycling every day but do you know the correct cycling technique? Riding a power bike correctly not only helps you achieve the desired training effect but also avoids unfortunate injuries. In this article, ADO E-bike will guide you to ride properly!
Prepare before cycling
To make sure you have enough energy for cycling. You need to eat well. Because during exercise, your body will burn a certain amount of calories.
The best time to eat before cycling is 2 hours. Eat a light meal before riding. Do not eat food that is difficult to digest or eat too close to the bike. This can cause shock and discomfort.
At the same time, before practicing any subject you need to warm up. This helps the muscles and joints get used to gradually and avoid injuries or incidents such as cramps, muscle tension when cycling.
Product reference:
Guide to cycling properly.
Sitting posture
To ride a bike properly you need to have a correct sitting posture. Pay attention when cycling the elbow is slightly bent. This helps to distribute the force on the wrist, avoiding injury to the wrist. In addition, the vibration force from the vehicle when passing through the elbow is also reduced, helping to better protect the spine.
The lower leg and thigh meet at an angle of 65 to 145 degrees, which protects the hips.
At the same time, to ride a bike properly you need to keep your shoulders, back and hips in line. This position helps you to cycle faster and avoid back pain after cycling training.
For many people, cycling has become an instinct with little attention to whether it is correct and scientific. Proper cycling technique is a combination of movements: Pedal down, pull, lift and push. These operations are performed in harmony with each other to help you achieve the desired speed easily.
Cycling speed
To ride a bike properly you need to allocate a reasonable cycling time. In the first time from 15 to 20 minutes, you need to cycle at a moderate speed to let your body adjust and gradually adapt to the speed. Then, you gradually increase the pedal speed to achieve the training effect.
Some other notes
In the guide to cycling properly, there are a number of operations and factors that ensure your safety, such as.
Check the car before practice such as brakes, tires, shifters, ...

Adjust the saddle height to fit your body shape, avoiding the situation that the saddle is too low to cause overlapping legs or the saddle is too high, causing unsafety.

Prepare full protective equipment, especially helmets

Choose the right cycling time, do not ride in the hot sun.
The ADO E-Bike is a solid companion in urban living. We create products that provide a great driving experience on complex traffic conditions such as bumpy, rocky and uphill. All ADO products are designed to be environmentally friendly and comply with environmental guidelines.