News ADO
The secret to choosing to buy a power-assisted bike
by Vy Nhat on Jun 08, 2023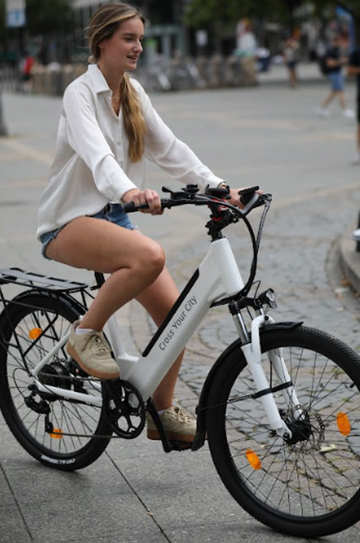 Currently, the power-assisted bicycle market in Vietnam is very diverse with many different models and quality. Therefore, choosing to buy a sports power bike is not an easy thing. Please refer to the following criteria when choosing a sports bike to make your decision easier!
Satisfying user needs
When looking to buy a car: Many people wonder what kind of sports power bike to choose? Because sports bikes have many different types, each serving a certain need or use:
Mountain bikes (MTB) are often used for sports training, mountain climbing, …

Racing bikes are suitable for traveling on beautiful paved roads and are suitable for speed enthusiasts.
In addition, city powered bicycles are quite popular because they are suitable for many different uses: Going to school, going out, exercising,... The bike can move quickly on the roads. the road is beautiful and still very smooth if going on bad and rough roads.
You should base on the terrain and purpose of use to choose the appropriate power-assisted bicycle.
Suitable for age and gender
Men often choose models with strong frames that can withstand large loads. Strong and masculine design.
Women often choose models with low and light frames. Feminine and lightweight. In addition, women when choosing the right sports bike for them need to pay attention to the size of the bike.
Product reference:
Vehicle size
Experience choosing a sports power bike is to pay attention to the saddle height, wheel size and the distance from the saddle to the handlebar. You need to make sure your body fits these parts. A suitable bike is one that helps you to have the most comfortable and safe riding position.
Movement set
For sports bikes, the shifter plays a very important role. It determines the performance on different terrains as well as the speed of the vehicle.
Photo of ADO A20 Lite folding power-assisted bicycle
Thus, helping you to optimize the pedal force to achieve the desired speed. When consulting to choose a sport bike, Bicycle Supermarket always prioritizes Shimano movement to suggest to customers. Genuine Shimano will have good stability and very smooth operation.
Chassis
The chassis determines a lot to the vehicle's weight. That affects the pedal speed and the ability to accelerate quickly or slowly of the vehicle.
Some of the most popular types of frames in Vietnam are steel, aluminum alloy. There are also carbon and titanium, due to their high cost, they are not commonly used.
Brakes
When choosing to buy a sports power bike, you also need to pay attention to the brakes. It is important for you to control the wheel and keep you safe. A good car brake will give a gentle squeeze, not causing hand fatigue and sensitivity.
Disc brake: The advantage is that it always works well on different terrains and weather. Less maintenance required. But the price is high
Brake rims: Easy to wear, so often need to be replaced. In return, this type of brake is cheap and easy to find and repair.
Car company
Currently, there are many different sports bike brands. It is best to choose a company with a well-known brand, with a lot of reviews. Thus, you will have a better experience.
Price
When choosing a sports power bike, you will realize that the market has a lot of bikes in many segments: Different frame materials or vehicle configurations cause different prices.
Should you choose a complete car or a assembled car?
CBU cars cost more than assembled cars, but CBUs are more likely to be genuine.
Meanwhile, to buy assembled cars requires you to be an experienced car player. The advantage of assembled cars is that they can assemble whatever they like, according to personal preferences. However, today's spare parts are really fake. So it is not easy to find quality spare parts.
Should you buy a used bike (parking car)
This is a question many people wonder about when choosing to buy a sports bike.
Parking vehicles are used vehicles and are imported from abroad. If you have little knowledge, you can choose the one that has damaged some internal parts without knowing it. After using for a while, the problem occurs. And usually the life of this car is quite low because it has been used.
But if you are knowledgeable or lucky, you can choose a good car with a very soft price.