News ADO
Experience choosing power-assisted bicycles to travel through Vietnam for backpackers
by Vy Nhat on Jun 08, 2023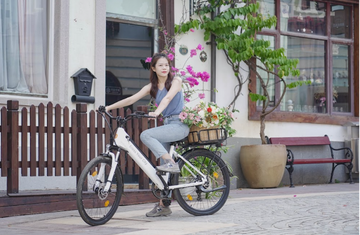 Cycling through Vietnam is an interesting experience for those who love the feeling of conquest. There will be many hardships, but what will be gained is the feeling of pushing yourself beyond your limits and seeing the beautiful natural scenery of the country. To realize this, the most important thing is to need a reliable companion. So, to choose a bicycle to go through Vietnam, what should you pay attention to? The following article will help you answer this question!
Choose a bike to go through Vietnam that is suitable for the road
To have the most convenient and best trip. The most important thing is that you need to choose the right bike for the road you plan to go on. So which type of bike is most suitable?
Mountain road:
When riding a cross-country bicycle on hilly roads, you have to go through difficult terrain areas with many steep slopes. Therefore, choosing MTB or mountain bikes is reasonable. The car has a big, sturdy frame. Multi-patterned tires for extremely effective traction. At the same time, the car is equipped with shock absorbers to help your journey smoother.
Product reference:
Coastal route:
Cycling on coastal roads is usually the highway, flat. Racing bikes are a great choice. The car has a small and light frame, low-spiked tires that help you achieve high speeds very easily.
However, the car is not suitable for riding on rainy days or on roads with many obstacles. And it's not convenient if you carry a lot of stuff. Therefore, cycling through Vietnam by racing bicycle is not suitable, only suitable when you go for a short trip on coastal, beautiful and flat roads.
2. Trekking on many different terrains:
When you decide to ride a bicycle across Vietnam on many roads with different terrain, a street bike or a dedicated mountain bike is a choice to consider.
Street bikes possess many of the advantages of both dirt bikes and racing bikes. The wheel has a moderate level of roughness, so it still ensures good traction without causing weight when pedaling on beautiful roads. Horizontal handlebars control easily and comfortably.
If you carry a lot of things, you should choose street bikes with baga or dedicated backpacking bikes.
Some suitable mountain bikes
1. ADO D30C . terrain power bike
The ADO D30C power bike is a combination of many advantages such as comfort, weight and very affordable price. The ADO D30C bike is an off-road vehicle, so it is suitable for mountainous areas.
The chassis is made of 6061 T6 aluminum alloy, which is strong but still very light, making acceleration more efficient.
In addition, the car is also equipped with advanced Logan hydraulic brakes. Thanks to that, unexpected situations can not make it difficult for backpackers.
2. Power-assisted bicycle ADO A26S VEHICLE
Giant Escape 3 City city bike is suitable when you travel on many different terrains. The chassis is made of aluminum alloy according to Giant's exclusive technology, which is both durable and lightweight for the vehicle.
In addition, the car is also equipped with a 21-speed Shimano Tourney shifter to help the car go uphill easier. Good load-bearing baga makes carrying things easy and convenient.
3. ADO A20 Air folding power-assisted bicycle
This is a cross-country bike model with a sporty, strong and compact design. The chassis is made of aluminum alloy to ensure stability. Premium disc brake with Japanese quality Shimano movement.
When buying power-assisted cycling, you need to pay attention to reputable brands and product quality. A good ride needs a good horse. To minimize the risk or damage of the vehicle. Choose good products from reputable companies. ADO is a name not to be missed.
The ADO E-Bike is a solid companion in urban living. We create products that provide a great driving experience on complex traffic conditions such as bumpy, rocky and uphill. All ADO products are designed to be environmentally friendly and comply with environmental guidelines.
Above is information on how to choose a power-assisted bicycle to go through Vietnam. ADO E-bike hopes the above information is useful to you. Wish you choose for yourself the most suitable mountain bike for yourself.