News ADO
Explore the future of power-assisted bicycle trends
by Vy Nhat on May 24, 2023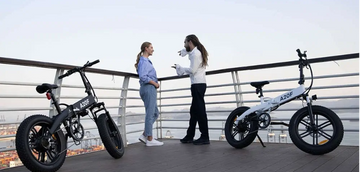 A power-assisted pedal today, despite many modern improvements, meets the needs as well as creates driving comfort for the user. But try to imagine which electric powered bicycle product for the future will be most popular with customers.
Power-assisted electric bicycle design for the future
Smart electric assist bike
A power-assisted electric bicycle is designed as intelligently as a computer, fully equipped with special features such as automatic anti-theft or tire puncture resistance. Electric bicycle products for the future of 2029 are worth looking forward to experiencing.
Power assisted bicycle has massage function
Traveling long distances makes you tired and has back pain when you have to maintain the same posture while driving. Therefore, a futuristic design provides the best posture for driving comfort.
Power-assisted electric bicycle with improved features
Environmentally friendly electric power is the best feature of electric assist bicycles. A power-assisted bicycle for the future with many improved features such as a more compact design, solar charging, and self-charging when pedaling and moving. These innovations will certainly bring more satisfaction to consumers.
Power-assisted electric bicycle with aggressive style
For consumers who love ruggedness, the design of a personalized electric-assist bicycle model is very unique, increasing the power of the vehicle's engine.
1 wheel electric assist bike
In order to solve traffic congestion, designing a compact and light electric-assist electric bicycle product for the future with 1 wheel and 1 rider is a very practical idea.
Discover the ADO A20F XE power assist bike
https://www.adoebike.vn/products/ado-a20f-xe
Upgraded version from the A20XE generation with larger overall size, fat wheels for smooth, quiet movement worthy of a professional terrain sports bike. On the other hand, the A20FXE still has the manufacturer's built-in folding ability for convenient transportation and many advanced safety equipment.
Technical specifications of ADO A20FXE bicycle
Code: A20FXE
Color: Black / White / Gray
Dimensions: 1740 x 530 x 1200 mm
Dimensions after folding: 980 x 450 x 770 mm
Maximum speed: 25km/h
Transmission: Shimano 7 speed
Motor power: 250W
Battery: Lithium battery 36V, 10.4Ah
Charging time: 4-6 hours
Maximum distance in power assist mode 80km
Wheels: 20 inch fat wheels
Chassis: Aluminum alloy
Load capacity: ≤120kg
Weight: 29kg
Protection level: IPX5
Brakes: 3.0 double disc brakes
Suspension: Front fork/seat tube
Stable operating temperature: -10 ~ 50°C
Overall sure, the ability to fold comfortably
The ADO A20FXE electric assist bike has a slightly better design than the previously released A20XE version, overall dimensions 1740 x 530 x 1200mm, weight 29kg, users can also fold this bike for convenience. in moving as well as storing to save space (When folded, the front of the car is still: 980 x 450 x 770mm). In addition, the handlebars and seat tube can be adjusted to the appropriate height. According to information from the manufacturer, the product is suitable for users with a height of 165 - 200cm, maximum weight on the bike is 120kg. .
The frame is completed by ADO with durable aluminum alloy material
The frame is made sturdy by ADO with durable aluminum metal box material, undergoing standard quality testing procedures. The paint color is also coated with up to 4 layers, resisting environmental impacts that cause discoloration and rust. At the same time of use, products from ADO are still shiny and beautiful compared to other electric-assist bicycles on the market.
Removable lithium battery
ADO A20FXE possesses a lithium battery with a battery capacity of 36V 10.4Ah and comes with a BMS smart battery management system to help save energy and optimize travel journeys. After fully charging within 6 hours, the car can run for 25km in pure electric mode or 60-80 km in electric assist mode. Besides, the electric bike's battery is easily removable, so users can charge it separately outside or directly on the bike.
Shimano 7-speed transmission
The ADO A20FXE electric power-assisted bicycle uses a 7-speed Shimano transmission. This gearbox provides better traction and is easily adjusted on the steering system, overcoming complex terrain types, smoothly on long journeys. Specific adjustment levels:
Number 0: driven by pedal force
1-3 vehicles running at low speed
3-5 vehicles running at average speed
5-7 cars running at high speed
The braking system is effective and quick
160 x 2.8mm brake discs make the braking effect better even in the worst conditions, the car still provides good braking ability and ensures safety for the driver to quickly handle unexpected situations when moving. . According to information from the manufacturer, the brake is highly durable for standard use up to 5 years. (Information may vary due to different travel conditions).
The braking system is effective and quick
Comprehensive anti-shock system
The ADO A20FXE electric bicycle possesses a comprehensive system that absorbs shocks during travel, maintaining a smooth driving feeling, operating and practicing for long periods of time without causing pain and fatigue. . Specifically, the vehicle is equipped with shock-absorbing front forks, elastic seat tubes, and 20-inch fat shock-absorbing wheels.
Comprehensive shock absorber system
Control system G-Driver 2.0
The A20FXE electric bike is equipped with a G-Driver 2.0 controller for gear automation, providing continuously responsive performance with a power source that matches the user's pedaling force. From there, the energy source is more optimized, more economical, and allows you to move comfortably without wasting too much effort.
Control system G-Driver 2.0
A number of other equipment and accessories are integrated on the vehicle
LCD screen displays all parameters, works well under hot sun
Built-in USB charging port charges mobile phones anytime
Advanced lighting system, IPX5 . waterproof standard
Luminous bars are integrated on both wheels
The ADO E-Bike is a solid companion in urban living. We create products that provide a great driving experience on complex traffic conditions such as bumps, rocks and uphill. All ADO products are designed to be environmentally friendly and comply with environmental principles.