News ADO
Take a look at 9 types of power-assisted bicycle accessories needed when cycling
by Vy Nhat on May 31, 2023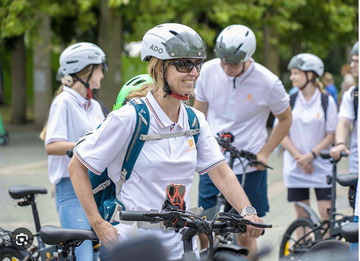 Besides finding yourself a suitable power-assisted bicycle, choosing bicycle accessories is also extremely important. These items will be a "effective assistant" by your side during the long journey. This article, gives the necessary bicycle accessories that are indispensable when cycling. See now!
1. Helmets
When it comes to bicycle accessories, helmets cannot be ignored. This is important equipment to help ensure your safety. Whether you use a traditional bicycle or a power-assisted bicycle, a bicycle helmet cannot be ignored.
Note that you need to choose a helmet that fits well and is of good quality. Besides, this is an indispensable bicycle accessory. Especially when you go on a long trip, moving on difficult and difficult terrain. You should choose a helmet with a well-ventilated and impact-resistant design. Make you feel comfortable while ensuring maximum safety for you.
Car lights
This accessory will be extremely useful for those who often cycle at night. The light is placed in front both to illuminate and to signal to the vehicle moving ahead. Besides, a taillight is also very necessary, helping people behind to easily recognize you, especially in low light conditions when moving at night.
See also: ADO DECE 300C . bike
Bell
Next, an essential bicycle accessory for you is a bicycle bell. Currently, on the market, there are many different types of bicycle bells such as ringing bells, knocking bells, etc. Adding a bell will help you signal to people around where visibility is hidden or need to give way.
Fender Accessories
Many sports bikes today are not equipped with fenders. If you often cycle under many different weather and terrain conditions, you should equip an additional fender.
Bicycle fenders are an essential equipment, especially in dirty, flooded road conditions. Fenders will help you limit the situation of dirt splashing on your clothes and shoes.
See also: ADO A26S . Bicycle
Water bottle and water holder

Water bottle and water holder are small but essential bicycle accessories for you. This equipment is even more important for those who use power-assisted bicycles for exercise purposes. When cycling, our body will lose water through sweat glands. Therefore, it is necessary to add water in time. A water bottle at that moment will be your savior. For water bottles, you should choose a type made of good materials to ensure your health.
Multi-function bicycle repair tool
A small bike repair kit will help you when your bike has problems, breakdowns on the road. Especially, when your car has a problem where there is no place to repair it, you can use this accessory to fix it.
Bicycle bag
Bicycle bag is a necessary accessory for bicycles that many people look for and choose to buy because of its convenience. You can leave your personal belongings when cycling such as phones, wallets, .... With a smart design, this accessory helps you get the most comfortable riding position without causing obstacles or entanglement. uncomfortable.
Bicycle pump
The bicycle pump is an essential bicycle accessory for your bike when you're away or on a road trip. Your tires must always be in a stable condition. If the tire is too small, it will lose power or if it is too tight, it will cause shock when riding.
You need to pay attention to the type of pump that is suitable for your vehicle valve. You can buy a pump that includes a pressure monitor to ensure that your tires are in the best pressure condition.
Bicycle basket
Bicycle baskets are essential accessories for those who use bicycles for daily travel or travel. A front basket creates ample storage space. However, you should not put heavy and too large items in the cart, obstructing the view and making it difficult to control the steering wheel.
Above are 9 types of bicycle accessories needed when cycling. Hope you have more suggestions to get the most comfortable cycling experience.
With quality products, competitive prices, and the best service, we have been attracting more and more users to ADO in Vietnam - where we have created a system of warehouses and services. good after-sales