News ADO
How to use the basic sprocket in a power bike
by Vy Nhat on Jun 06, 2023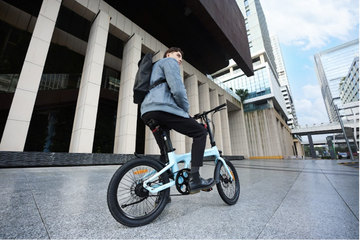 The bike starter kit consists of 4 important components: the handlebar, the front and rear derailleur, and the routing cable. These parts have a very important task for a power bike. When moving, they coordinate with other components in the Groupset
to
help the vehicle operate more flexibly. Users can experience maximum speed and gain advantages when using this set.
1. What is a sports bike starter?
Bicycle starter is also known as speed changer, bicycle speed changer. ADO sports power bikes are equipped with 1 to 3 discs and 1 to 8 cassettes. Changing discs and cassettes while pedaling will directly affect your pedaling force. Therefore, each person needs to know how to use the sprocket to get the most out of the bike.
2. Basic use of discs and cassettes in sports bikes:
There are 3 ways to use the cassette as follows:
ADO E-bike recommends that you do not use small discs with small cassettes or large discs - large cassettes because you will accidentally damage the movement due to the inhomogeneity of the force acting on the shifter.
The illustration below will help you visualize:
Depending on the road you take and how you want the car to move, in order for the starter to take full advantage, you should combine the disc and the cassette as follows:
+ Disc 1 => Lid 1,2,3 => Suitable for uphill, difficult road, light pedal
+ Disc 2 => Gear 4,5,6 => Mostly suitable for long-distance driving
+ Disc 3 => Gear 7,8,9 => Suitable for acceleration, narrow roads, heavy pedaling, suitable for strength training.
Product reference:
Power-assisted bicycle ADO D30C