News ADO
3 mistakes to avoid when using a sports power bike gear set
by Vy Nhat on Jun 06, 2023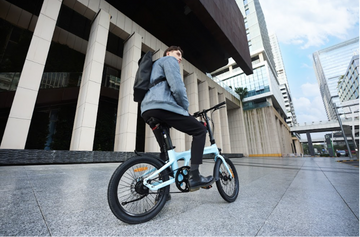 The bicycle starter (also known as the speed changer, the speed changer) is one of the most important components of a sports power bike. However, not everyone knows how to use it correctly, so here are 3 mistakes to avoid most when using the set.
1. Shift discs and cassettes when the bike is stationary
The sports bike's gearshift can only be adjusted while the bike is moving. When the vehicle is stationary and you change the disc and cassette, it is easy to damage the gearshift.
Some friends who park their cars at school should also warn their friends about this because often friends who don't know will be curious and try to damage it.
2. Reverse the pedal of the sport bike
We often have the habit of pedaling backwards when the car is going downhill. With other types of bicycles such as ordinary bicycles or fixed gear bicycles , reverse pedaling is carefree.
However, with sports bikes equipped with starter gear, you should not step on the pedal backwards because the complex chain chain system can cause the starter to wind, break the cassette and slide the chain.
3. Shifting cassettes and discs does not match
The clutch and disc will operate according to the mechanism as mentioned in the article on how to use a sports bike starter , which is small - large disc, large - small disc, medium - medium disc.
So the cases to avoid are: large disc - large cassette, small disc - small cassette. When you try to change the disc and cassette in those two cases, it will be impossible to change or if you can, it is very easy to damage the bike due to the uneven force on the bicycle starter.
So you have more experience to use a sports bike starter. Avoid the above for the best performance of the bike starter!
The ADO E-Bike is a solid companion in urban living. We create products that provide a great driving experience on complex traffic conditions such as bumpy, rocky and uphill. All ADO products are designed to be environmentally friendly and comply with environmental guidelines.