News ADO
How to distinguish current power-assisted bicycles?
by Vy Nhat on Jun 01, 2023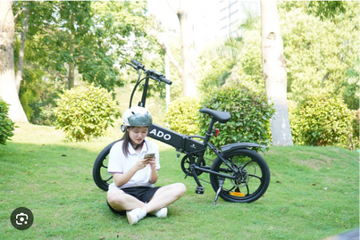 In the development of society, will power-assisted bicycles be dominated by other vehicles in the market? The answer is no, on the contrary, power-assisted bicycles are favored by many consumers. Because they not only help people stay healthy but also become a sport with major races in the world. So have you distinguished the current sports power-assisted bicycles?" Let's find a way to distinguish the sports power-assisted bicycles with ADO E-bike right away.
Users of sports power-assisted bicycles
Today, the audience of sports power-assisted bicycles is not only professional athletes. But they also attract all audiences, both men and women, of all ages from young to middle-aged, the elderly.
Sports power bicycles not only help people exercise. But this is also a healthy living habit, enhancing the good cultural values ​​of Vietnamese people.
Because of that, there are many sports bikes on the market with a variety of designs and models. For those who specialize in sports, distinguishing sports lines is very simple. As for those who are just starting to use bicycles, strange problems are difficult. Here we will help you classify the types of sports bikes.
Beautiful sport power bike ADO A20F modern sport design:
See also: power bike ADO A20F VEHICLE
ADO A20F is manufactured on modern production lines, ensuring the best quality and meeting international standards. Designed and assembled by a high-tech factory under strict management to ensure quality and safety for children!
Using a sturdy frame from high-grade aluminum alloy AL6061 and U-shaped handlebars helps children have the most comfortable sitting position to drive their car. The certainty from the frame will certainly reassure parents about the quality of the car.
Has an attractive sporty design. In addition, the Shimano 21-speed starter and ST-EF500 exhaust handle ensure high accuracy with gentle, smooth press operation, easy to use.
Disc brakes - brakes with good safety and grip increase efficiency and ability to stop the car when suddenly. Rain or slippery roads also do not make the brake lose its great use.
Sports power bike for kids
In just a short time of being introduced to the market, ADO E-bike has brought a variety of best experiences for the childhood travel of millions of children, from professional designs, eye-catching colors to smooth rides. her.
This ADO A20 power-assisted bicycle is manufactured on modern lines, from the most advanced machinery and equipment to produce all the models as expected of children.
Product reference: Power-assisted bicycle ADO A20 VEHICLE
Towards the safety of children, the manufacturer has equipped many unique but attractive accessories to children's interests so that children can be more excited in traveling with daily entertainment activities.
This sports car model helps children develop physically, more height, energy, increase children's resistance, better blood circulation. Equip a baga so that your baby has more companions behind when he wants someone to play with.
ADO E-bike is proud to be the leader in quality bicycles for children in Vietnam and around the world. So don't hesitate to invest in your baby with such a wonderful and meaningful item, parents.