News ADO
Sports suitable for the elderly
by Vy Nhat on Jun 01, 2023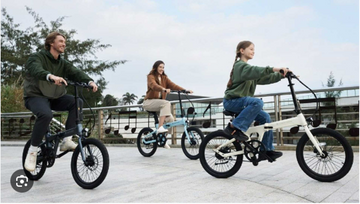 As we all know, when they get old, the elderly are often very weak, their health declines, their bones and joints are no longer the same as when they were young. However, elderly people often choose a sport that is suitable for their ability and health. So what are those sports? Let's learn together with ADO E-bike which sports are suitable for the elderly right now.
The first is cycling
Cycling is a sport that helps exercise not only young people like it. And the elderly also love this sport. According to statistics in Vietnam, the rate of cycling among the elderly has skyrocketed.
Cycling will help the elderly improve weight problems
+ Weight is a matter of great concern not only for young people but also for the elderly. When they reach old age, their body cannot use energy, so excess fat will accumulate causing obesity.
Or when they get old, their health will have many problems such as cardiovascular disease or diabetes. This is also the cause of weight gain in old age. Cycling is a rhythmic sport that will help elderly people lose weight without spending too much effort. Each cycle will burn 300 calories of excess fat.
Cycling will improve cardiovascular problems
+ When cycling, the heart rate of the elderly will increase, helping to increase the ability to pump blood. This will help improve the heart, prevent strokes, heart attacks.
+ If the elderly maintain a daily cycling habit, it will help avoid high blood pressure and the heart will become healthier.
Cycling improves sleep
+ Exercise by cycling method will help the elderly improve insomnia. When exercising, the body will be healthy, reduce fat, reduce stress. This will help the elderly to have a deep and long sleep. Therefore, elderly people often exercise to improve their health.
The second is yoga
According to health experts, Yoga is a discipline that helps the elderly reduce stress through meditation. The benefit that yoga brings is to strengthen the muscles and increase the cardiovascular endurance of the elderly. Therefore, yoga has good effects on health, especially in the elderly.
In addition, Yoga can also relieve pain because it is practiced slowly and flexibly in combination with deep breathing. The way to practice Yoga does not put pressure on the heart because their movements are very simple. Not only that, when you practice this subject, you will control your emotions and balance your psychology.
Therefore, the elderly people who practice Yoga after a week feel very healthy, comfortable, mentally comfortable, and the body does not have pain.
Third is walking
Just like cycling, walking is a normal but very effective activity. Elderly people often love to walk every day, and they walk often. When we go to sleep, it will help lower blood pressure, fight insomnia. So go for a walk regularly for good health.
Above are 3 sports that are loved and widely used by the elderly. Because this is a subject that is respected by the elderly, they bring health and high spirits.
Refer to the ADO DECE 300 Lite power-assisted bicycle product
Specifications:

- Product name: ADO D30 (DECE 300)
- Type of vehicle: Electric Bicycle
- Tire size: 27.5x1.95inch
- Color: Gray, Silver
- Maximum speed: 25km/h (Unlock to Max.35km/h)
- Distance to electricity: <50km
- Driving distance: <90km
- Load capacity: 120kg
- Vehicle weight: 21kg
- Boxed weight: 31kg
- Dimensions (D x RXC): 1800x640x1100mm
- Folded size (D x RXC): not foldable
- Box size (D x RXC): 1480x260x780mm

Hardware:

- Chassis quality: Aluminum
- Motor: Brushless motor
- Rated motor power: Unlock to 350W/42N.m
Transmission: Shimano 11 speed
- Suspension: Front fork (Control by wire)
- Brake system: ADO 3.0 brake system with hydraulic disc brake
- Battery type: Lithium battery
- Battery capacity: 36V 10.4AH
- Battery charger: 42V/2A (CE/Safety)

Software:

- Control system: G-DRIVE dual mode control system
The ADO E-Bike is a solid companion in urban living. We create products that provide a great driving experience on complex traffic conditions such as bumpy, rocky and uphill. All ADO products are designed to be environmentally friendly and comply with environmental guidelines.