News ADO
Places to travel with power-assisted bicycles in Ho Chi Minh City
by Vy Nhat on Jun 07, 2023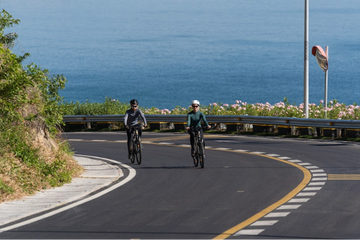 After stressful working days, you want to experience the weekend with your favorite power-assisted bike. It would be great to take up the challenge of riding right away with your power bike. Let ADO E-bike share with you about the travel destinations starting from Ho Chi Minh City right away!
Saigon - Long An, House of hundred columns
The total length of this road is about 40 km, to make this trip requires good physical strength, and experience preparation.
On this route, you will go through some major routes (if you come from the inner city), there are many cars in traffic, so you also need to be very careful when moving on the road.
In Long An, you can visit historical sites such as the Hundred Pillar House, Go Cong Dong clam beach, etc.
Phu My Hung - Ben Luc
This is another interesting route for backpackers who do not like to stop in front of traffic lights as well as a route with few motorbikes.
This will be a route for those who love nature, to be immersed in the fresh smell of flowers and grass, or the fields of golden pineapples. You will have the opportunity to enjoy delicious juices.
Thu Thiem - Nhon Trach
This is considered a route chosen by many backpackers, with a length of only a few tens of kilometers, with little traffic of motorbikes, and quite safe. The route starts from Thu Thiem bridge via Cat Lai - Nhon Trach ferry (Dong Nai).
This is a cool route, filled with diverse fruit gardens to help you have great experiences.
Mount Dinh
The location is about 80 km from Saigon, this is a place for those who are passionate about exploring, with interesting hills and mountains with a height of about 500m.
This route is quite popular with bikers through the Ba Ria - Vung Tau road with a challenging 6km long pass. More interesting is that this road can satisfy you with a sense of challenge, along with being in harmony with nature when there are cool green trees around both sides.
Need hours
Can Gio is a favorite backpacking destination for all young people. About 50km from the center of Saigon. Table can completely do this trip of hers in 1 day.
In order to carry out the trips by sports bike, mountain bike, you always need to equip yourself with a good physical strength and endurance.
Product reference:
Vung Tau
Vung Tau is another great place for backpackers with beautiful sea routes, the highlight is the peaceful sky with only the sound of rolling waves.
Binh Phuoc
You can go along Highway 14 to go to HCMC. Thu Dau Mot, then turn to DT741 road more than 35km, towards Binh Phuoc.
This is a wide road with wide lanes and many cool trees. If you are looking to do long trips with endurance training, don't miss this route!
Cu Chi
Cu Chi is the land of steel, chosen by many backpackers, especially the Cu Chi tunnels. This is a road with thousands of trees along with many interesting routes.
When visiting here, you can experience fruit gardens, eat tapioca, and experience the legendary tunnel.
The ADO E-Bike is a solid companion in urban living. We create products that provide a great driving experience on complex traffic conditions such as bumpy, rocky and uphill. All ADO products are designed to be environmentally friendly and comply with environmental guidelines.