News ADO
Pocket 7 ways to ride a bike without getting tired on the road
by Vy Nhat on Jun 07, 2023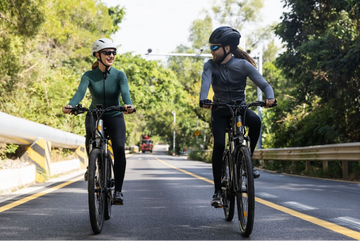 Product reference:
1. Adjust the saddle properly
Long-distance trips need the most comfortable and comfortable sitting position. Therefore, you need to pay attention and adjust the saddle to suit your cycling posture.
If you feel numbness in your hands, it is possible that your saddle is bent downwards, causing your body to be pushed forward.
The way to ride a bicycle without getting tired is to use a saddle that fits your body, has a soft seat cushion, and properly adjusts the horizontal saddle position.
2. Cycle in the right posture
Correct cycling posture will help you not feel tired when cycling long distances. How to ride a bike without getting tired is:
Keep elbows slightly bent to reduce pressure on wrists, causing wrist fatigue

Keep your back straight, don't slouch, and occasionally do light hand movements to improve blood circulation.

Do not put too much force forward. Keep your shoulders behind the front wheel at all times.
Photo: Cycling with the right posture
3. Drink enough water
When cycling, you may lose water, if not replenished in time, it will make the body feel tired and sluggish. So, the way to ride a bike is not tired is to fully replenish water before cycling. At the same time, bring a water bottle to replenish when needed during cycling.
4. Eat before cycling
You need to recharge enough energy for the long journey. You should only eat and drink easy-to-digest foods 2 hours before cycling, do not eat too full. Otherwise, your body will feel sluggish, uncomfortable and achy.
Absolutely, do not cycle in a hungry state, it is easy to make you feel exhausted, dizzy and may faint if cycling for a long time.
Photo: How to ride a bike without getting tired - Eat well before cycling
5. Keep a steady pace
This is an effective way to ride a bicycle without fatigue. Long-distance cycling requires you to have good endurance. Therefore, keeping a steady pace helps you have the health to conquer the whole journey.
When going to the flat, easy-to-walk sections, you can relax your hands or stand to relax a bit. Cycling on a bike with a posture that makes you feel tired, a little rest helps you to regain your spirit and strength.
6. Check the bike before riding a road bike
A broken bike on a journey can be a source of fatigue and discouragement. To minimize this situation from happening, you should check all the parts on the car before the trip. From there, promptly fix and fix the problem.
7. Have a companion when cycling
Cycling with a companion helps keep your mind upbeat, happy and forgets fatigue. The way to cycle without getting tired is that you can invite more friends with the same passion, interests or join cycling clubs. Having a companion makes you feel that the distance is significantly shorter!
Above is information about 7 ways to ride a bike without getting tired on the road. Hope this article helps you in your upcoming trips. Good luck