News ADO
The secret to choosing the best power bike
by Vy Nhat on Jun 06, 2023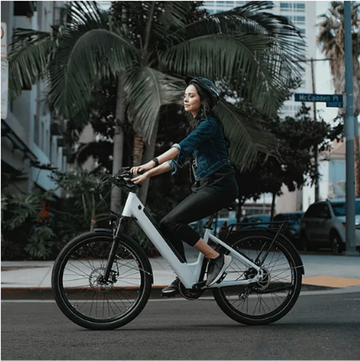 What is an electric bicycle? Constructed how?
An electric power-assisted bicycle can be understood as a bicycle with an electric motor . They can move from an average speed of 25 to 32 km / h and have a mass of about 40 kg. Structure of electric power assisted bicycle includes:
The electric motor system, the vehicle's charging unit, the control board,...
Product reference:
Are electric bicycles any good?
Electric bicycles are very popular with students - students because of its convenience. In addition, it has the following features:
- Cost savings
With each full battery charge, you can travel a very long distance about 40 - 80 km with only 1.5 electric numbers , making electric power bicycles extremely economical in fuel.
- Compact design
Electric powered bicycles often have a compact design that makes it easy to move in crowded places in the inner city.
- Power, speed of the vehicle
The power in the electric bike is about 250W on average, it will help your bike move at a moderate speed from 25 to 32 km/h .
- Environmental friendliness
The issue of environmental protection is getting a lot of attention in recent times. Using an electric power-assisted bicycle is also an environmental protection measure because the vehicle is completely electric, so emissions are zero.
- Reliability
Depending on your usage, electric power assisted bicycles will have different lifespans . While in use, you should pay attention to the proper charging of the battery, do not exceed the maximum speed on the vehicle, ... those things will help the power-assisted bicycle use longer.
Should I buy an electric power assist bike? Evaluate pros and cons
Should I buy an electric power assist bike? This is a question many of you have asked. Let's evaluate its pros and cons for a better overview.
- Advantage
+ Electric bicycles are a safe means of transportation and when moving you do not need to spend as much effort to cycle as traditional bicycles.
+ Helps you save money because there is no need to buy fuel.
+ The possibility of leakage and explosion is also extremely low due to the design from high-grade materials.
+ Compact designed electric bike suitable for all ages
- Defect
+ Vehicle can only withstand a fixed load, if trying to overload the vehicle, it will be easily damaged.
+ The car only has a short distance of about 45km - 50km on a single charge.
+ The vehicle speed is quite slow, only about 25km/h - 32km/h. More advanced models only have a maximum speed of 45km / h.
+ Batteries on electric power-assisted bicycles have a fairly short lifespan of about 300-350 charges.
+ You must store your car to avoid placing it in a humid place that will easily cause your car to be damaged.
- General assessment
In general, whether to buy an electric power-assisted bike or not depends on the different travel needs and preferences of each person. If you are a student or student who needs a compact vehicle to travel short distances, a power-assisted bicycle is the perfect choice.
Experience choosing to buy the best electric bicycle power pedal
- Choose a genuine car
This is extremely necessary because if you buy cars of unknown origin, it will be extremely dangerous and the durability is not as desired.
- Choose an electric power-assisted bicycle that is appropriate for your age
Electric bicycles are extremely diverse and rich in both colors and designs, so choosing the one that suits you best is very important.
- Should choose a car to avoid water
Choosing a car with water resistance is something you need to keep in mind because the climate is divided into two distinct seasons. Choosing an electric power-assisted bike will help you use it longer and cost less to repair when the bike is flooded.
- Maximum mileage data
Currently, electric power-assisted bicycles move on average from 30km/h to 90km/h depending on the model and its price.
Answers to some related questions
Should you choose a battery-powered or battery-powered electric bicycle?
Answer: Depending on the needs of each person, it is possible to choose the right type of power-assisted bicycle.
Battery-powered electric bicycles have a fairly light weight (about 6-7kg), while battery-powered electric bicycles are heavier, so the vehicle design is more bulky. However, electric bicycles running on batteries are more expensive than batteries .
- How far does an electric power assist bike charge each time?
Answer: On average, each electric bike will go about 40-45km on a single charge.
- Is it possible to use the car in rainy or flooded conditions?
Answer: Currently, electric bicycles usually have a self-contained motor , which is quite tightly protected , so riding in bad weather conditions such as rain or muddy roads is no longer a concern. But in order for the battery and engine to last longer, you should not soak the battery and car engine for too long in water.
The ADO E-Bike is a solid companion in urban living. We create products that provide a great driving experience on complex traffic conditions such as bumpy, rocky and uphill. All ADO products are designed to be environmentally friendly and comply with environmental guidelines.