News ADO
9 mistakes when maintaining sports power bicycles you should avoid
by Vy Nhat on Jun 07, 2023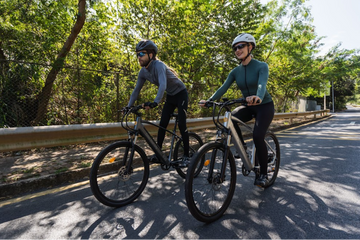 Product reference:
1. Tighten the sprocket
On the gearboxes are equipped with loosened screws to make gearshifts smoother and easier. In many cases, changing numbers is difficult. Many people think that the screws are loose and use a screwdriver to tighten them. But this makes the situation even worse.
The right way to maintain a mountain bike is when you have trouble shifting gears, check again to find out the cause. It could be a dirty disc, a strained cable, or a bent disc hanger. Then remedy the situation with appropriate measures.
2. Incorrect chain installation
Each type of bicycle uses an appropriate type of chain. When changing the chain for your bike, you need to pay attention to this to choose the right type of chain for your sports bike.
If you use the wrong chain, it may break or loose the chain,...
3. Do not check wheel pressure
Maintenance of mountain bikes requires attention to wheel pressure. If the tire is too inflated, it will cause you to ride, and if the tire is too young, it will take a lot of effort. And especially reduce the life of the tires.
Bicycle Supermarket's advice when you maintain your sports bike at home is to regularly check the bike's pressure. Each tire is usually marked with the standard pressure for that type of tire. It is recommended to use pumps with built-in pressure gauges to control tire pressure within standard ranges.
4. Not keeping the power-assisted bike clean
Cleaning power-assisted bicycles regularly is a way to maintain sports power bikes you can't ignore. When your bike gets dirty with dirt and grime, it gets harder and harder to clean over time and when it becomes stubborn stains can slow down your bike.
Therefore, you need to wash your car regularly. Especially when you have just come back from the rain or the car is covered with mud and dirt.
Note when washing the car, avoid letting water get on the bearings, which will cause rust for a long time.
5. Not taking care of the bike chain
Many people neglect to take care of bicycle chains, causing them to break down faster. At the same time, it also causes the gears to wear out quickly and emit a rattling, annoying sound.
The correct way to maintain a mountain bike is to check and oil the chain regularly (once a month). Regularly check to adjust the chain length (6 months / time).
Before oiling the power-assisted bicycle chains, you need to clean them, use the right specialized oil and only oil the links, not the gears.
6. Adjust the collar too tight
The collar is the part that helps you navigate your vehicle. You just need to make sure the nut is just right so it doesn't vibrate and loosen while driving. Do not tighten this screw, it will cause a squeaky feeling and difficult to drive.
7. Do not maintain the seat post
We often see that the saddle is very easy to rust due to oxidation. Because in the process of use it is in contact with water and air, but it is not cleaned and maintained in time.
Therefore, the right way to maintain a mountain bike is to check and lubricate the saddle regularly (every 3 months).
Using the wrong curing solution
Did you know there are many types of maintenance solutions: Some only clean dirt, but there are types that both clean and lubricate and maintain metal parts.
Therefore, when choosing to buy a maintenance solution, you need to pay attention to this to maintain the most effective sports bike.
9. Failure to properly adjust vehicle brakes
Bicycle replacement or repair often affects bicycle brakes. It can cause your brakes not to work or be too tight, making it difficult for the vehicle to move. Therefore, you need to check and adjust the bike brakes appropriately to ensure the safety of yourself and those around you.
Above are the 9 most common mistakes when maintaining sports power bikes. Hope the above information helps you avoid these errors and maintain your sports power bike better. Good luck with your application!
The ADO E-Bike is a solid companion in urban living. We create products that provide a great driving experience on complex traffic conditions such as bumpy, rocky and uphill. All ADO products are designed to be environmentally friendly and comply with environmental guidelines.