News ADO
7 important criteria when buying a folding power bike
by Vy Nhat on Jun 07, 2023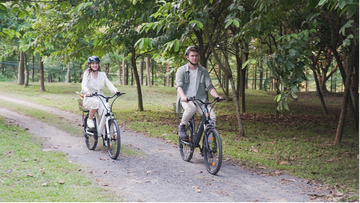 Product reference:
1. Choose the right vehicle type
Folding power bicycles are divided into different types to meet the diverse needs of users:
Off-road folding power bike
This is a sports folding power bike with a sturdy frame that can withstand a large load to meet the needs of moving on rough terrain. The car is suitable for those who love adventure and often travel on rough roads.
Power-assisted folding bike to work
A folding power-assisted bicycle for adults to go to work often to move on flat roads, in the heart of urban areas. Compact and lightweight design is an advantage of this vehicle. Helps you easily wriggle on busy roads or narrow alleys.
Travel folding folding bike
For travel folding bicycles, it is necessary to be as minimalist in design and compact as possible. This helps you save more space when moving between locations by other means such as airplanes, cars, buses, ...
A compact bike to carry with you on every trip will be a useful and extremely interesting friend for those who love to experience and travel.
Folding bike to Bus
In general, buses in Vietnam do not have much space for you to easily carry a folding bike. Therefore, give priority to choosing cars with good and fast folding ability. For you to get on and off the bus easily and timely.
2. Folding ability of the vehicle
The purpose of many people when buying a folding power bike is to save storage space. Therefore, a power-assisted bicycle with good and fast folding ability needs attention and attention.
You need to know the exact dimensions of the car when folded. Also, determine how much space you use to store your bike. From there, choosing a folding power bike will be easier and more accurate.
Another note is that the smaller a bike is, the more time it takes to fold the bike.
3. Vehicle size
Folding power-assisted bicycle is a very versatile vehicle and is used for many different objects. Because the seat height and handlebars can be changed flexibly. However, you also need to pay attention to the size of the car so that it fits and fits best. This makes cycling more comfortable and safer for you on a regular basis.
4. Chassis Material
A compact bike with a good frame will last longer and be lighter. Currently, on the market: Folding sports bikes or folding children's bicycles are made from 4 popular types of frames: Steel, Aluminum, Carbon and Titanium.
Cheap folding power bikes are usually made of steel. Good load capacity and sturdy. Folding bicycles with aluminum frames are much lighter in weight so you can carry them with you more easily.
Carbon and Titanium frames are quite expensive. But folding bikes made from these 2 materials are durable, light in weight and glide more smoothly and smoothly.
5. Durability
When buying, you should choose the selling points where you can sit on and experience the car on the road. Thanks to these practical experiences, you can assess the quality and suitability of your compact bike.
If you want an adult folding power bike with high performance and travel long distances, you should choose models with many gears and large wheel sizes.
And if you often travel in urban areas for short distances, you can choose a compact folding bike with small wheels to make stopping easier.
6. Price
Before buying a car you need to set a certain price you can afford and look for models in this segment. That way, you can choose the model that fits your budget.
In addition, you also need to consider other factors such as usage needs, terrain or other criteria to choose the most suitable folding bike.
7. Prestigious brand and seller
Choosing a reputable brand and seller helps you to be assured of quality and safety. In addition, choosing reputable sellers helps you receive accurate advice from experienced people.
The ADO E-Bike is a solid companion in urban living. We create products that provide a great driving experience on complex traffic conditions such as bumpy, rocky and uphill. All ADO products are designed to be environmentally friendly and comply with environmental guidelines.