News ADO
7 secrets to choosing to buy a quality terrain power bike
by Vy Nhat on Jun 06, 2023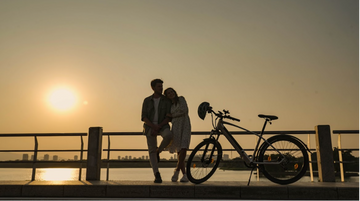 Mountain bike is a type of bike that is being loved and loved by many people, especially young people. With advantages such as personality design, capable of moving on all terrains, it can be used in daily life to go to school, go out, do sports.
Buying a power bike that suits your needs is always the top concern of power bike players. That's why, ADO E-bike will tell you 7 tips to choose a quality terrain power bike, suitable for everyone, extremely useful.
Product reference:
Tip 1: Choose a car by age, height and gender.
Depending on age and gender, male or female, child or adult, there will be separate criteria for choosing a mountain bike.
- For men can easily choose for themselves the style of bike they love.
However, for women, due to the difference in body shape, women's cars need lighter frames, handlebars and saddles designed specifically for women are the best.
Tip 2: Choose the right car size
When choosing a mountain bike, the size of the bike cannot be ignored. You should choose the right car size for your body, which will make you feel safe and comfortable when using it.
- Do not choose a vehicle that is too high because your feet will not touch the ground or when you stand on your feet, you will easily fall, potentially causing many accidents while operating.
- If you choose a car that is too low, it will cause your legs to bend and get tired, causing discomfort and discomfort when using.
How to determine the right size power assist bike
Tip 3: Choose a chassis
The frame is considered the most important part or the backbone of the MTB bike. A frame suitable for your body shape not only makes it easy for you to exercise without harming your health. In addition, a frame with good materials will help your car have good durability and impact resistance, you will be more confident and easily overcome difficult terrain.
Currently, MTB chassis is usually manufactured from materials such as steel alloy, aluminum alloy, carbon, titanium.... These materials often have a durable structure, providing good impact resistance.
+ Steel alloy frame: withstand large loads, durable, good impact resistance, cheap price. However, the heavy weight is laborious and easy to corrode.
+ Aluminum alloy frame: light weight, fast response. However, the disadvantage of aluminum is that it is not very impact resistant.
+ Carbon frame: sturdy, very light weight, often used in racing bikes that can maintain speed, feel faster, but very expensive
+ Titanium frame: is said to be the best material to make a bicycle frame, very strong, super light, best anti-corrosion, has a long life, the only disadvantage is the extremely high price.
Tip 4: Choose a suspension system
The shock absorber system of a mountain bike, also known as a fork, is a part that helps reduce the impact of the road surface, can absorb vibrations from potholes, rough, uneven roads to bring a giving you balance, comfort and ease of driving.
There are two main types of power-assisted mountain bike forks: Spring fork (also known as Coil fork) and Air fork (or Air fork).
Spring fork : This is a type of fork that uses compression mainly in steel or Titanium metal springs.
+ Advantages: Easy to maintain, maintain, low cost and has better ability to absorb impulses and withstand forces.
Cons: heavy and difficult to adjust.
Air fork : If the Coil fork uses compression mainly in the metal spring, the Air fork is the opposite, using compressed air to act like a spring.
+ Advantages: Light and easy to customize according to the weight of the rider
+ Disadvantages: The compressed air pressure can be changed by the ambient temperature inside the fork caused by the friction process or the outside ambient temperature when cycling. This affects the stability of the fork. The price of the air fork is also higher than the spring fork.
Tip 5: Choose the brake
Mountain bikes are equipped with two main types of brakes: disc brakes and rim brakes.
Disc brakes are more expensive, but when they win, they eat more. Rim brakes are cheaper but don't work as well in rainy and muddy environments. Therefore, for FORNIX mountain bikes, only disc brakes are used to ensure safety when used in muddy, slippery, and steep hills.
Tip 6: Choose the wheel
Wheels and tires, depending on the needs of use, people use different types of wheel spikes. If your need is to go to the forest, climb hills and wade streams, you should choose a wheel with suitable spikes, high grip, otherwise if you go on a long road, need speed, or light dirt road, you should use a cake with little spikes to reduce friction and increase movement speed.
Currently, mountain bike wheels have 3 basic sizes: 26 inches, 27.5 inches and 29 inches.
Tip 7: determine the price of the car
Depending on the budget of each person, choose the terrain vehicle that suits your pocket.
The value of a bicycle depends on three main factors: frame material, groupsets and brakes.
+ Steel alloy chassis: weighing from 18-25kg, the price is cheap from 2,000,000 VND or more.
+ Aluminum alloy frame: light weight from 13 to 15 kg, cost from 4,000,000 VND or more.
+ Carbon car frame: has a high price of 10,000,000 VND or more.
+ TiTan alloy chassis: very expensive from 80,000,000d or more.
For groupsets, the Shimano brand is the most popular. The Shimano groupset set is divided into the following levels corresponding to quality and price, from low to high: Touney SIS, Altus, Acera, Alivio, Deore, Deore LX, SLX, XTR.
In which, the reference price of Alvio groupset is about 4-5 million, Deore is about 8-9 million, and SLX is about more than 10 million.
+ Bicycle brakes have many brands such as Shimano, Tektro, Avid, Hayer, Magura,... However, Shimano and Tektro's high quality brakes should be loved and used the most despite the higher price. other brands.
Currently, ADO E-bike has many models of terrain powered bicycles with solid structure, youthful and dynamic, high quality, reasonable price, so it is loved by many young people. We believe that you will choose for yourself an ideal companion.