News ADO
5 factors determining the comfort when riding a power bike you need to know
by Vy Nhat on May 31, 2023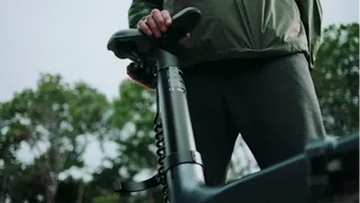 Cycling is a very healthy sport. But having talked about training, it is impossible not to mention injury. Many people think that cycling is just a very normal activity that is subjective. Find out immediately the 5 factors that determine the comfort of cycling below to change the perception and perspective about cycling.
See also: ADO A20F power-assisted bicycles
Why is it important to keep a comfortable posture when cycling?
As mentioned at the beginning, cycling is easy to cause injury if you do not know how to limit it. Simply because cycling is also a normal sport, it must use strength and move joints during activity. In order to avoid unwanted injuries, you must obviously maintain a correct cycling posture.
In addition, being in a comfortable position will avoid some accidents on the road. When an unfortunate accident occurs, it requires you to make precise and decisive decisions. If in a strange, uncomfortable position, it is very difficult to control the car as you like.
There are many risks that do not come while you are cycling but begin when you have given up the sport. Specifically, the symptoms caused by osteoarthritis. But the root cause of this lies in the fact that you use a wrong posture for a long time. Therefore, it is necessary to consider the following 5 factors to have the most comfortable cycling posture.
5 factors that determine the comfort of cycling
2.1. Adjusting the saddle
The process of cycling will make you sit in the saddle for a long time. So if the saddle is not comfortable, it will lead to pain. Unknown bike companies often rarely pay attention to this small detail. With the motto of bringing a great experience to customers. ADO provides the best details in the movement part, but also pays special attention to driving support details such as saddle, handlebars, ...
Another note to keep in mind is the saddle height. If the saddle is too high, people tend to bend down when moving. This has a negative effect on the waist, shoulders, and neck. It's just normal aches and pains at first that can lead to more serious complications.
2.2. Handlebar handlebars
Handlebar handlebars must also be really noted. This is the point of contact of your hand, so it also indirectly affects the arm and shoulder blades with fluctuations during driving. The decisive factor to this is the curvature of the handlebars. When choosing a car, take a test drive, if you feel uncomfortable, change it immediately. Handlebars too far also make you unable to brake in time in case of an accident. This is very dangerous for the user.
2.3. Bicycle handlebar cushion
One detail that is easy to overlook is the handlebar cover. Why this armrest detail? Firstly, holding the handlebars for too long can lead to calluses and skin peeling. When active, sweat is released, making the grip slippery. Therefore, the steering wheel cushion also helps to control the car more firmly.
2.4. Choose the right outfit for cycling
Clothing is the deciding factor to 50% of comfort when cycling. So choose the clothes, shoes, gloves, helmets that best suit your body.
See also: ADO DECE 300C . power-assisted bicycle
2.5. Warm up before each trip
Warming up before riding will reduce the risk of injury. Especially when cycling uphill, there is a risk of very dangerous cramps.
Above are 5 factors that determine the comfort of cycling. In addition, it is necessary to equip more knowledge to ensure the safest riding. Do not despise this is an easy sport that is subjective.
The ADO E-Bike is a solid companion in urban living. We create products that provide a great driving experience on complex traffic conditions such as bumpy, rocky and uphill. All ADO products are designed to be environmentally friendly and comply with environmental guidelines.