News ADO
What's the Difference Between Electric Bicycles and Regular Bikes?
by Vy Nhat on May 31, 2023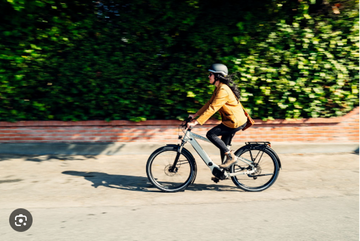 Today, the use of bicycles for commuting is considered a trend due to its safety, convenience, savings and environmental protection. Due to the different conditions and circumstances of each family and when moving, many people have chosen to use electric cars. When learning about electric vehicles, people will often pay attention to two types of electric vehicles, which are electric power-assisted bicycles and electric bicycles. Let's learn about the two types of vehicles with ADO E-bike!
Structure
Electric bicycle: powered by an electric motor, an electric bicycle consists of 3 main parts that help to move by electricity without using a pedal: motor, battery and controller. The engine of the car is quite strong and smooth, there is no sound when the car runs. Vehicles can move at very fast speeds but are very easy to cause accidents, dangerous for users. The car battery is quite strong, can be used for 3-4 years depending on the level of use of each person.
Construction of electric bicycle
Electric power-assisted bicycles: Electric power-assisted bicycles you will still have to pedal to run, but almost maximum support, very light. The bike has the same structure as a regular bike, but has its own set of motors, battery box and control panel for power assist modes. The electric power-assisted bicycle's motor is very small, light, quiet and takes up little space. The running speed is moderate, not as fast as a regular electric bike, so you can easily handle unexpected situations in traffic.
Construction of electric power-assisted bicycle
Batteries, accumulators
Electric bicycle:
The battery charge cycle can last from 1 to 2 days. The downside is that when charging the battery, the battery you have to bring the whole car to the charging place because this part cannot be removed from the car.
Another issue that you need to consider about batteries and batteries for electric bicycles is that for electric bicycles, it is necessary to check the battery and battery after a certain period of use because the electric bike battery is very fast. damaged, if you pay attention to replace it in time, it can be used. And the price of this part is also quite high depending on the line, but will usually range from more than 2 million – more than 4 million.
Electric power bike:
The battery used is usually a Li-ion battery, about 800-1000 times of charge, the battery is bottle and needs to be replaced. In addition, for this type of battery, you can remove the battery from the car to facilitate the charging process.
The cost of replacing a new battery can range from 500k - under 2 million. You should consider using Japanese batteries, with warranty as usual, not difficult to find.
See also: ADO DECE 300 Lite assist bike
Shape, color
E-bikes: Usually have eye-catching shapes and colors such as: Ninja cars, Xmen electric cars, 133S, 133H ... are designed modern, compact, diverse designs such as personality style, bold physical sporty or feminine, banh beo. Each type of vehicle has many colors for you to choose from.
Electric power-assisted bicycles: The most popular and popular and most trusted by everyone is the Japanese Mini car-like model, in addition, there are also touring sports cars that incorporate electric assist. The colors of each line are also extremely rich, diverse, comfortable for you to choose.
Shape and color of electric power assisted bicycle
Conclude
Advantage:
E-bike: Fast speed, battery and battery can be used for a long time on 1 charge, eye-catching design, compact, smooth when moving, diverse colors.
Electric power-assisted bicycle: The battery lasts a long time, when the power runs out, the bike is very light, fast and simple to charge, the battery can be removed for charging, there are many shapes to choose from and helps to exercise regularly.
Defect:
Electric bicycles: Vehicles are quite heavy, causing danger and accidents; Inconvenience in charging the car, out of power, the bike is quite heavy, the cost of replacing the battery is high, the battery is high, the brake is sensitive.
Electric power-assisted bicycles: Most electric power-assisted bicycles use 120V power to charge the vehicle, so an additional transformer is required. Vehicles still need to use force to be able to move.
Each type of car has its own advantages and disadvantages, so before buying a car, you need to consider the purpose of use to choose the right vehicle for you.
The ADO E-Bike is a solid companion in urban living. We create products that provide a great driving experience on complex traffic conditions such as bumpy, rocky and uphill. All ADO products are designed to be environmentally friendly and comply with environmental guidelines.