News ADO
Power-assisted bicycles: An old trend or a vehicle of the future?
by Vy Nhat on May 31, 2023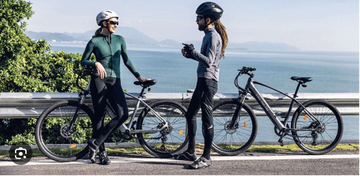 Over the years, the sales and investment capital of the electric power-assisted bicycle market has increased significantly. Sales in Europe and North America of this vehicle increased from 2.5 million units to 6.4 million units between 2017 and 2021…
In 2021, the global power-assisted bicycle market is valued at 17.56 billion USD and is expected to reach more than 40.98 billion USD by 2030, at a compound annual growth rate (CAGR) of 9, 6% from 2021–2030. Besides, this market has also been attracting funding from many large investors.
According to KrASIA, luxury car brands such as Porsche and General Motors have also entered the e-bike market along with two-wheeler manufacturers such as Giant, Xiaoniu, Yadea and Aima. Europe is currently the largest e-bike market, with annual sales of 5 million units in 2021, outpacing sales of hybrid cars.
HOW TO HELP BIKE GET POPULAR
The power-assisted bicycle industry is growing at breakneck speed and surpassing sales of electric and hybrid vehicles. The COVID-19 pandemic has fueled rapid growth in the electric power bicycle market in Asia and the Americas due to social distancing and travel cost savings measures. Narrow streets and poor road conditions in European cities also make power-assisted bicycles more suitable for urban traffic than cars.
In addition, the trend towards reducing carbon and electrification also accelerates the transition from fuel-powered cars to electric cars. Along with that, the governments of many countries are also providing subsidies to stimulate market demand and reduce taxes to create more incentives for people to use electric bicycles. In the past year alone, the value of the e-bike market in the US surpassed the $1.3 billion mark, marking a 33% year-over-year increase.
Power-assisted bicycles are NOT just a passing trend
See also: ADO DECE 300C . power bike
As the electric power-assisted bicycle market grows, brands also compete fiercely to assert themselves in this nascent industry. One of the decisive competitive factors is price, therefore, the ability to control production costs is one of the important problems of developers. Normally, with a power-assisted electric bicycle, the motor system will usually account for about 40% - 50% of the total production cost. However, besides cost control, maintaining quality is also an important factor for brands to succeed in the electric power-assisted bicycle market. In general, brands must balance between cost and quality to meet the demand for long-term development in the market.
Janette Sadik-Khan, former commissioner of the New York City Department of Transportation and president of the National Association of Transportation Officials, said during a meeting with : "The transportation revolution is ready, kicking off. The first was the explosion of power-assisted electric bicycles. They are a great alternative to driving and are also less expensive. They are really changing the way people get around and I see it every day when walking or cycling in the city."
SALES OF ELECTRIC BICYCLES CAN EXPECT EVENTS OF ELECTRIC CAR
In the US, experts in the field of transportation assess the electric bicycle market will have a bright future in just a few years. While electric car companies like Tesla and Tesla are in their prime, two-wheelers are also growing and even on track to overtake electric cars this year.
According to The Daily Beast, the top developed cities are encouraging the use of electric bicycles and implementing many policies to make this transition. With just a small fraction of cars switching to electric bicycles, there are tens of millions of electric bicycles that can travel in a small part of the road without noise or dust.
In both 2021 and 2022, sales of electric power-assisted bicycles outstrip electric vehicles and hybrid cars. This trend is expected to continue to accelerate in 2023 and in the years to come as governments increasingly encourage the use of environmentally friendly vehicles and the public becomes increasingly conscious of their responsibility to protect the environment. environment to mitigate climate change.
Electric cars are hotter than ever, but they're not the only electrified vehicles set to explode. It is difficult to predict the exact future of the electric bicycle market, however, many industry experts believe that the trend of electric bicycles will be very developed in the near future. Factors such as growing awareness regarding environmental issues, advances in technology and reducing supply chain costs, as well as the desire for healthy and cost-effective transportation options are The driving force behind electric bicycles continues to gain popularity.
The ADO E-Bike is a solid companion in urban living. We create products that provide a great driving experience on complex traffic conditions such as bumpy, rocky and uphill. All ADO products are designed to be environmentally friendly and comply with environmental guidelines.
See more at: https://www.adoebike.vn/