News ADO
What is a sport powered bicycle? Advantages and disadvantages of sports power bicycles
by Vy Nhat on Jun 08, 2023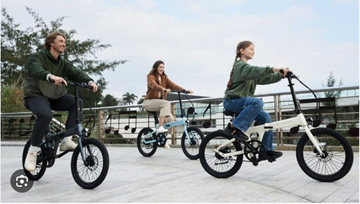 Do you often watch competitions and racing tournaments but do not really understand the characteristics of the car? Do you wonder if there are any precautions when using a sports power bike? Find out with ADO E-bike right through the article below!
1. What is a sport powered bicycle?
Sports power-assisted bicycles, also known as road bikes, are specially built vehicles that can travel at high speeds on flat paved roads and still be safe. The chassis system is usually designed to be slim and compact; The tires are small and the driver often leans forward.
Anyone can use this car, especially those who are passionate about speed and want to use the car to practice sports with high intensity or practice to participate in competitions and tournaments. Bike racing.
2. Advantages and disadvantages of sports powered bicycles
2.1. Advantages of sports power bicycles
Weight: The vehicle is light in weight because of its minimalistic and slender design, but always ensures the safety of the chassis and tires.
Speed: On flat terrain, racing bikes can run faster than other conventional bicycles because the shell and inner tube are specially designed to be thin and light to reduce friction with the road surface as well as limit maximum wind resistance.
Durability: Genuine racing bike products usually have a very long life because most bikes are manufactured to serve users in competitions.
Target audience: Anyone can use this bike. You can use the car to go for a walk, go on a trip, exercise, and improve health. Depending on your height and purpose of use, you can choose the most suitable model for yourself.
2.2. Disadvantages of sports power bikes
Easy to slip: Owning small, slippery tires without spikes and grooves to serve fast acceleration riders in races, the car's ability to grip the road is very poor. Race bikes are really not suitable for traveling in areas with slippery or rough terrain.
High price: The price of racing bicycles on the market today is quite expensive, ranging from 4 to 20 million.
No fenders: Race bikes do not come equipped with fenders by the manufacturer. Therefore, you can buy and install it when it rains.
3. Notes when using sports power bicycles
Some notes when using a sports power bike that you should know:
- Do not adjust the seat too low: Remember when cycling, you should not adjust the saddle too low compared to the body because it can affect health, cause back fatigue, muscle pain, create an uncomfortable feeling when driving. car. In particular, the toes must be able to touch the ground to ensure your ability to keep your balance during the move.
- Lowering the body's center of gravity: Helps limit wind resistance to help cyclists move faster without spending too much effort. In addition, lowering your body's center of gravity also helps you keep better balance when moving through areas with rough and winding terrain.
- Use the right speed changer: Each different type of terrain requires you to know how to flexibly change fast and slow speeds. So take the time to practice and familiarize yourself with the car's gearshift before starting the advanced exercises.
- Use comfortable clothes, easy to sweat: When driving for a long time, sweat will be released a lot, and at the same time, your heart rate will increase faster. If you use clothes that are not breathable and do not absorb sweat, you will quickly feel uncomfortable and tired.
The ADO E-Bike is a solid companion in urban living. We create products that provide a great driving experience on complex traffic conditions such as bumpy, rocky and uphill. All ADO products are designed to be environmentally friendly and comply with environmental guidelines.
Contact ADO E-bike immediately to get more detailed advice and support from our staff about sports power bike models!