News ADO
5 great benefits of a folding power bike
by Vy Nhat on Jun 08, 2023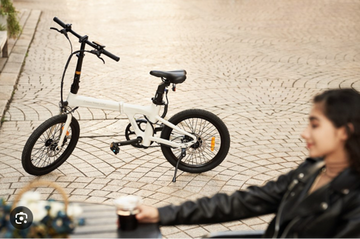 The folding power-assisted bicycle is the preferred choice of many customers because of its convenience, ease of use and carrying. Immediately follow the article below of ADO E-bike to better understand the benefits and disadvantages of the car to make a decision whether to buy it or not!
1. What is a folding power bike?
A folding power-assisted bicycle is simply understood as a vehicle with a collapsible frame to help users easily store, transport, ... but always ensure safety when moving.
People who go to school, work, ... who like convenience can choose to buy folding bicycles to move to school, office, ...
Product reference:
2. Benefits of folding bikes
2.1. Convenient folding
The first benefit that cannot be ignored of folding power bikes is their convenience. You can fold it quickly, easily carry it, store it in many different places, even in places with small and narrow spaces. Typically, such as: apartment elevators, car trunks during family trips, public buses, trams, ...
In particular, you can completely store the car in a small carton without worrying about the car rusting, peeling paint due to the effects of the surrounding environment like other ordinary bicycles. Folding bikes will be the perfect choice for homes that are not too spacious!
2.2. Easy to use
You can easily use a folding power-assisted bicycle to travel to visit and explore many different places. In addition, using a folding city bike also helps you move faster and with less effort thanks to its compact design and light weight.
2.3. Unique style
Distinctive design, unique style, one of a kind, makes the difference between hundreds and thousands of other conventional vehicles on the street. Using a folding power-assisted bicycle helps you create a unique impression and personality for yourself.
2.4. Environmental protection
As you know, power-assisted bicycles are "green means of transportation" encouraged by the Government and many agencies and organizations to use. Power-assisted cycling contributes to limiting emissions, minimizing air pollution, and protecting the environment. Therefore, instead of using motorbikes, cars, public transport, ... cycling emergency assistance to go to school, work, go out, ... is also one of the useful jobs contributing to protect our living environment.
2.5. Cost savings
Compared to other means of transportation, it is certainly cheaper to use a folding power-assisted bicycle. You save a lot of costs incurred on fuel, maintenance - repair, parking, ...
3. Disadvantages of folding bikes
Although bringing users a lot of benefits mentioned above, folding bicycles still have some disadvantages that need to be improved in the future. Like:
The price is higher than regular bikes with the same configuration because of the complicated design

Not diverse for all types of terrain, especially areas with rough, uneven terrain

Small car size is not suitable for people with tall body
4. Should you buy a folding bike?
Folding bicycle is a convenient means of transportation, easy to use, has a unique design, protects the environment and is more cost-effective than other types of transportation. Besides, this model still has many limitations such as: small size, unusable in a variety of terrains, high price.
Therefore, to make a decision whether to buy a folding bike or not, you should first consider the purpose of use and your financial ability. If you are not financially constrained, need a compact car to move in the city, then a folding bike will be one of those interesting options.
Contact ADO E-bike immediately for our staff to support and advise you in more detail about the folding power bike models!