News ADO
Power bike terrain 1 or 2 forks?
by Vy Nhat on Jun 06, 2023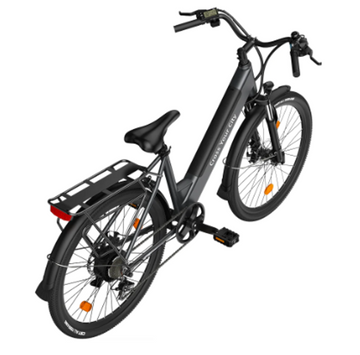 In the line of power-assisted bicycles, terrain-assisted bicycles are becoming more and more popular due to their suitability for many different types of terrain and strong sporty design.
Ordinary ADO terrain power-assisted bicycles are distinguished by the number of forks: popular with 1-fork and 2-fork bikes. Depending on your needs, you can choose.
Mountain bike 1 fork
The type of car that has only one front fork is also known as a hardtail car. The ADO 1-fork mountain bike series is lightweight, the weight of the bike depends on the material used to manufacture the frame. Most mountain bikes use iron frames or aluminum alloys. There are two types of aluminum frames, which are cast ribs and welded ribs, and cast ribs cost more than welded frames due to its sturdiness.
Fornix mountain bike front forks usually have a stroke of 80mm to 120mm. ADO's single-fork bike is very popular due to its versatility in use. Players can experience challenging rough roads or can also ride it on long roads or simply ride exercise bikes every morning.
Full suspension bicycle
Product reference:
The 2-fork off-road bike has a complex structure and is heavier than the single-fork bike because it has more details. The Fornix 2-fork mountain bike operates more smoothly than a single-fork mountain bike because it has both front and rear forks. This vehicle is divided into many different types depending on the purpose of use.
Cross-Country (Cross-Country)
This 2-fork mountain bike has a design quite similar to a 1-fork terrain bike. The cross-country front and rear fork travel is about 100mm. The large fork travel helps to reduce the force of impact on the vedan when the vehicle is downhill. Due to the simple structure, the weight of the 2-fork long-distance Fornix mountain bike is not much heavier than the one-fork bike. This vehicle is suitable for long-distance off-road driving.
Multi-purpose mountain bike (All-Mountain (AM) – Enduro)
This vehicle is a combination of advantages of many different off-road vehicles, it is designed quite firmly, suitable for many types of terrain from difficult to easy. The Fornix AM mountain bike fork has a rather large travel (140mm-160mm), the weight of the bike is heavier than the Trail series. Owning this mountain bike line, players can climb slopes, downhill well, overcome complex terrain or even perform dangerous acrobatics.
Trail mountain bike (Trail):

This vehicle is designed to be suitable for simple terrain such as trails and gentle hills. The design of the car makes the driver feel comfortable and easy to control. The Fornix Trail mountain bike has a weight of 1-2kg more than the Cross-Country series, and the fork travel is from 120-130mm. The Fornix Trail mountain bike is very suitable for bikers who like to explore long distances and travel.

Performance dirt bike (Freeride)

The name of this model reflects all the possibilities of this vehicle. Players of this bike can freely express themselves on many different terrains, but the Fornix freeride all-terrain vehicle is designed to be suitable for gentle slopes, especially downhill, flying jumps and performing maneuvers. Beautiful acrobatics. Technically, this car can have 1-2 front discs, wide dip fork travel (170-180mm).

If you have a passion for conquering steep slopes, this bike is not for you. The Fornix downhill mountain bike is designed primarily for downhill. It has a design quite similar to the freeride line and has a weight of 18-20kg to go downhill as quickly as possible. For the purpose of fast downhill, the requirement of this line is that the shock absorber must absorb as much force as possible, so the travel of this Fornix mountain bike fork is quite long (200-203mm). In particular, this car uses 2-stage fork to help the vehicle's bearing capacity be enhanced better.
The ADO E-Bike is a solid companion in urban living. We create products that provide a great driving experience on complex traffic conditions such as bumpy, rocky and uphill. All ADO products are designed to be environmentally friendly and comply with environmental guidelines.