News ADO
Car display event at ADO Binh Tan
by Vy Nhat on May 22, 2023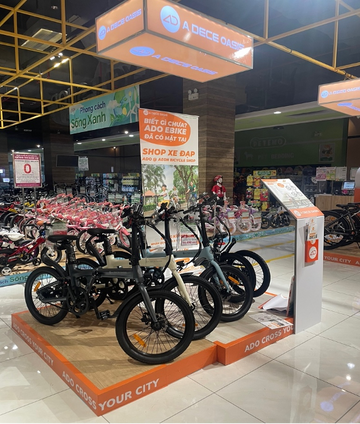 Car display event at ADO Binh Tan
One of the outstanding activities in the field of bicycles in HCMC. This event not only creates a lively atmosphere among bike lovers but also provides customers with a great opportunity to discover the latest models and learn about electric power assisted bicycle technology.
ADO at AEON Binh Tan is a famous electric bicycle dealer in Ho Chi Minh City with many years of experience in this field. With this car display event, ADO Binh Tan will bring customers an interesting experience about the products and services that this dealer provides.
With the participation of famous brands such as Yamaha, Giant, ADO,... customers will have the opportunity to discover the latest models and learn about electric bicycle technology through quiz games and games. conversations with ADO experts.
In addition, the car display event at Aeon Binh Tan also has many other interesting and attractive activities. Customers will be able to experience the car for free, and have the opportunity to receive attractive gifts when buying a car during the event. In particular, ADO Binh Tan also provides door-to-door door-to-door service to help customers have an easier and more convenient shopping experience.
If you are a bicycle lover and want to learn more about ADO's electric power assist bicycle products and services at Aeon Binh Tan, the bike show event is an opportunity not to be missed. Not only is the place to learn about the latest products, the event is also a place for you to connect and share experiences with people with similar interests.
With an exciting and vibrant atmosphere, if you are in need of an electric power bike or want to upgrade your existing power assist bike, this event will be a great opportunity to discover products and Buy at a discounted price. To create more fun and excitement, ADO will also organize games and activities for customers to participate.
In addition, the event will also be an opportunity to meet and share with the community of cycling enthusiasts. You can meet experts in the bicycle industry and share experiences and get helpful advice on the care and maintenance of your bike.
Not only is it an annual event of ADO, car display also marks a new development step of the company in improving service quality and expanding consumption market. ADO is always committed to bringing customers high quality products, best services with reasonable prices.
With the goal of becoming a leading brand in the electric power-assisted bicycle industry in Vietnam, ADO has set a long-term development plan and invested heavily in research and development of new products. The car show event will be an important stepping stone for ADO to approach and interact with customers, thereby improving the quality of products and services, creating satisfaction and trust from customers.
In addition, ADO also offers a number of attractive promotions such as direct discounts when buying cars at the event, giving gifts to customers who register for the first time at ADO.
See more at ADO's fanpage: https://www.facebook.com/search/top?q=ado%20e-bike%20vietnam
If you are interested in electric power bicycles and want to learn more about the product and test drive it, the ADO bike show is the perfect opportunity. You will be able to learn about the latest models of vehicles that meet the needs of users in everything from style and color to function and performance.
In the era of technology 4.0, owning an electric power-assisted bicycle is becoming a popular trend. Not only convenient and environmentally friendly, electric power bicycles also help users exercise and reduce stress effectively. Therefore, ADO's car show event in Binh Tan is an opportunity for you to discover and experience the benefits of electric power bicycles firsthand. Buy now to be one of the first to experience and own an electric bike at ADO!
See more ADO product lines here: https://www.adoebike.vn/collections/all-electric-ebikes