News ADO
ADO Lab-Create the Ultimate User Experience
by ADO Ebike on Jan 07, 2023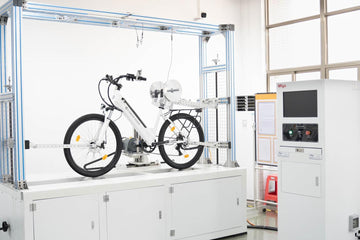 At present, the difference between ADO electric power bike and other Chinese electric power bike brands is that ADO has strong product quality control ability.
On the occasion of the brand's one-year anniversary, the ADO electric power-assisted bicycle laboratory was officially launched with an investment of about 2.5 million euros. This decision seems crazy to many people. Is it really worth the investment so much? Mr. Sen - the brand's founder said: "We want to develop the ADO brand into a long-term brand. If we want to go further, we must invest in product development and industry testing. ADO has always put the user at the core and the lab creates the most user-friendly brand.Designing tools and loading equipment to deliver the best experiences, only advanced testing labs can. with good quality products, and bring the best experience to users".
ADO adheres to its original purpose of "Protecting Daily Urban Mobility", and is the industry's first QTL electric power-assisted bicycle laboratory authorized by the international certification standard SGS – Laboratory ADO QTL test. This proves that ADO's inspection and testing ability, innovative R&D ability and laboratory management level have reached the level of domestic industry leading, which means that our products ADOs are all high quality products that have undergone rigorous testing and testing to meet international standards.
SGS (Societe Generale de Surveillance SA) is an internationally recognized technical verification and product quality control agency and the largest and most qualified certification body in the world. Among them, Chinese brands such as HUAWEI, TCL and Haier have also adopted SGS certification as the product certification standard.
So what does it mean for users?

1. Good product quality, long product life up to 10 years.

ADO has invested in advanced testing tools and equipment to support X test categories such as new vehicle testing, parts testing, electrical safety system evaluation and testing. and mechanical stress testing, including vehicle performance, mechanical performance, material performance, functional testing of X categories such as strength performance. The test methods conform to the standards of the SGS organization. Each part and the whole vehicle must pass strict quality inspection before shipment to ensure quality.
For example, ADO chassis will undergo 10,000 times of material hardness tests, natural degradation tests, material corrosion resistance tests, as well as vibration strength and fatigue tests. pressure; The vehicle's front fork will undergo 10,000 impact tests. This proves that ADO's chassis can be used for up to 10 years, very solid, not easy to peel off paint and very stable in harsh weather conditions.
At the same time, a new vehicle will undergo 10,000 times of endurance tests, mechanical stress and mechanical performance tests, pursuing high quality products to provide users with products with a long service life. .
2. Safe, reliable, stable battery life and endurance up to 100km

The issue that users are most concerned about is the safety of the battery. In this regard, ADO lab has strict manufacturing and testing standards with batteries, whether the batteries manufactured according to the standards are safe, the batteries have a stable service life, and long-term stability? Battery life:
Simulate a low temperature environment to see if the battery provides a steady current at low temperatures (-20°C);
Normal temperature environment, whether the battery capacity is qualified under normal situations;
Test in a high temperature environment (55°C) to see if the battery charging and discharging process is abnormal; also check the performance of the thermal sensor;
By charging and discharging the battery repeatedly, observe whether the battery test data is qualified;
After 8 hours with 12 tests to ensure the stability of each battery pack;
Finally install the SGS certified battery protection board to avoid damage to the battery;
Test battery data of 5 electric power assisted bicycles during real new driving, for example if it affects battery safety in X hours of driving on bumpy roads. After ensuring that there is no potential safety hazard, the final production and mass production of the battery will proceed. The testing process strictly follows the AQL standard.
This rigorous process ensures that ADO batteries can provide stable power output, quality, battery life and expected life.
3. Comfortable driving, best driving experience
ADO's new product design and development process will incorporate ergonomic design, while performing high and low span tests according to market demand to ensure the most comfortable design.
At the same time, ADO bicycles will be tested for smooth operation, including braking ability, hill climbing ability and power steering ratio test. Simulate ADO electric power-assisted bicycle in complex road conditions such as gravel and rough roads, the fastest speed can still reach 25km/h, smooth and power-saving uphill speed, braking distance is Short and stable, strong shock absorption ability to get the most comfortable driving experience of users.
4. Listen to customers' opinions and ensure safe service delivery
During product development, ADO collects all needs and suggestions from consumers and sends them back to the product lab. The lab department will design and improve the product after review. For example, expanding the tire size, widening the handlebar for better grip... At the same time, to meet the needs of customers, electric power-assisted bicycles with a center-mounted motor are being developed. .
In terms of service ADO has achieved a record of 48h delivery in Germany and UK and users will receive their favorite products within 48h (working days) after placing an order. In terms of after-sales service, ADO has a self-built after-sales service center and accessories distribution warehouse in Germany to ensure peace of mind for users to purchase, use and drive comfortably, becoming the foundation for users' daily trips.
About DEKRA Mark certification and SGS CE certification
After the ADO electric power assist bicycle products pass strict production and testing standards, they will register with professional international testing agencies DEKRA and SGS for product safety and quality testing. products by professional bodies. ADO successfully obtained the internationally recognized DEKRA Mark and SGS CE certification. This is a strong testament to the safety and high quality of ADO products.
It is worth mentioning that the Dece 300 electric power assisted bicycle has passed the SGS performance test mark (SGS Performance Test Certification Service), and the certificate can be looked up by scanning the following QR code. Very few Chinese brands pass this certification. ADO has been achieved. ADO is striving to become a benchmark among Chinese brands.
ADO Test Center will always focus on users, strengthen product innovation, research and development, adhere to product quality, and build technical core values ​​and brand competitiveness. ADO brand. In the future, the ADO test center will be equipped with the ADO G-Drive electronic control operating system to develop high-quality personalized products to meet the needs of various users. ADO will soon launch new products such as cargo and outdoor camping.
Cross your city, electric power assisted bicycle ADO!