News ADO
Things to read before choosing to buy a power-assisted bicycle
by Vy Nhat on Jun 06, 2023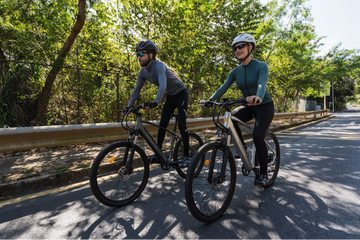 You are wondering or hesitant before deciding to choose a power-assisted bicycle that is suitable for your needs. ADO E-bike would like to share with you the necessary information for a new decision to stick with your upcoming "iron horse".
First, you need to note the following 3 points:
Type of bicycle: The appropriate classification of power-assisted bicycles depends on the purpose and terrain needs that you want to experience in the near future. Much depends on where you plan to ride.
Features and structure of power-assisted bicycles: In addition to the frame, a few points on the bike you need to pay attention to such as the suspension system, transmission, starter, brake (brake) ... will shape the price. value and quality of a power-assisted bicycle.
The right size of the car: This is almost an important thing but few people pay attention to, like the choice of the size of clothes or shoes depending on your height. It must be suitable for the size of the car to be good for the long-term health that you will stick with the car.
Types of power-assisted bicycles: To find the right bike for you, you must first know the terrain you will be participating in, for example: regular asphalt or rough rock, or both. Some power bikes are designed specifically for one type of terrain, while with a quick change, such as a quick tire change, you can enjoy the ride with peace of mind.
See more:
Basic bike classification :
Road (flat paved): Racing bicycles (road cars), also known as Road Bikes: divided into branches: Racing, Enduance, Cyclocross and Touring Bikes.
Trails and rugged rocky roads: Off-road vehicles (mountain bikes) or Mountain Bikes (referred to as MTB): divided into branches: Trail, Cross-Country and All-mountain Bikes.
Sidewalk or moderate dirt roads: Adaptive Bikes and Specialty Bikes are divided into branches: Cruiser, Cargo, Electric Bikes - Eletric, Folding Bikes, Fixed Gear.
Road Bikes: Suitable for running on paved roads, or flat sidewalks, used for exercise sessions, commuting, long distances, for parade events, touring Or bike races. Road cars often have light bar handlebars, designed at the ends of the handlebars in a curved downward curve. When you sit in the car, the position of the sitting position to the handlebar creates a dynamic, helping you to reach high speed quickly and best but still save the body's energy optimally. However, the hunched posture when sitting in the car can also make some people unfamiliar and tired and difficult to flexibly control the steering wheel, so sometimes there are designs with the car's arms straightened to make it easier to adapt. than. Wheels of this type are usually very thin and smooth without roughness, in order to reduce the frictional area with the road surface to a minimum, contributing to the increase of high speed. There are 4 types we can distinguish in Road Bikes as follows:
Racing Bikes: Usually the frames of these bikes are super light made of carbon fiber or aluminum, and the design is also super thin, mostly as light as possible to make it easier for elite athletes to reach high speeds. best in competition.
Enduance: Also has many of the features of a racing bike, but the handlebar and frame design helps you have a more comfortable sitting position, for example, the handlebars will be higher than the saddle to reduce pressure on the back and neck. your. In addition, the contact area of ​​the tire is also wider. Some models have a flat handlebar (instead of the traditional curved one) for those who prefer a relaxed style.
Cyclocross Bikes: The bike has a light weight, normal thin ribs but not too sturdy. Used to move in the city, on sidewalks, trails with small stones, village roads... Suitable for those who love both speed and off-road, so the tires of this type are normal spikes.
Touring Bikes: Touring bicycles have more design tweaks than traditional ones, the bike was created from the idea of ​​​​long-distance cycling. The frame is always very strong to be able to load heavy camping equipment, it can be loaded thanks to the racks on both the front and rear wheels. Multi-purpose vehicles have many attachments throughout the vehicle's accessories in addition to the brackets such as: fenders, water tank frames, pump, lights... Many vehicles also have a longer base length (distance between two hubs) than with other bicycles. In addition, the handlebars and saddle are also designed with a lower center of gravity, for easy control. Many Touring bikes also have disc brakes attached, due to better load reduction when carrying heavy loads on off-road. In this line of bikes, you'll find two more types of touring bikes and adventure touring bikes, mainly to differentiate pedaling on gravel from plain or regular spikes.
Off-road vehicles (mountain bikes) also known as Mountain Bikes (referred to as MTB): Designed with shock-absorbing characteristics and features, better disc brake system. The characteristic of this vehicle is that the tires are very rugged and the design of the pedals is also lower to handle hilly terrain, rocky slopes ... There are types we distinguish as follows:
Trail Bikes: This is the most common type of bike in the MTB series because it is not a race bike. If you need cycling sessions with friends, but still combine with a bit of street terrain, this is the bike for you. This car in the category emphasizes balance, is both fun and efficient, and the overall weight is also reasonable, not too heavy, not too light. Typical specifications: 120-140mm shock absorber system (suspension travel); parameter 67-69° head-tube angle from the wheelbase to the road surface. The larger this slope angle parameter, the better the vehicle will achieve speed and climb slopes. Conversely, if the angle is low, the bike has more stability at high speeds but the ability to climb slopes will be limited.
Cross-Country Bikes: This is the style of the bike genre that wants to achieve high speed while climbing hills. Distances can vary from 2km more for steep climbs, mainly to be efficient and the vehicle to be light as well. Suitable for strong riders who like speed competition for distances. Typical specs: 80-100mm suspension travel, 70-71° head-tube angle.
Fat Bikes: There are normal oversized tires, very thick: from 3.7 - 5in, these are extremely gripping bikes because of their high friction, characteristics that are optimally promoted in sandy terrain or snow. Going on rough and rocky terrain is also very stable, but on the contrary, it will be very heavy, the speed is not high.
All-Moutain Bikes: Including all the features for the most balanced bike configuration, players must have strong thigh muscles to pedal heavier, go longer, more dangerous distances, so it also requires skillful technique. more skillful. The terrain for this type of bike is quite diverse, can be artificial or natural depending on the competition or going in the forest, as long as it is designed to achieve good speed when racing, off-road or uphill. . Typical specs: 140-170mm suspension travel, 65-68° head-tube angle.
Downhill/Park Mountain Bikes: Mostly a dangerous descent from steep stairs or rolling hills. Often the slope for these vehicles is very large and dangerous, riders are forced to wear a "full-frame" helmet that is the entire face and head, specialized armor for the subject to protect the body. body: hips, back, arms, legs... Because athletes participating in this sport must be real professionals, they have to perform, using force to push the car, jump on rocks, acrobatic through the slides wood… Typical specifications: 170-200mm shock absorber system (suspension travel), 63-65° head-tube angle.
Hybrid Bikes: Is a combination of mountain, road and touring vehicles. All the features are combined to create a bike relative to the features that the person needs to use. In general, you will have a car that is understood as follows: thin wheels but with small spikes or slits on the tires, which is a combination of road and terrain vehicles, comfortable touring saddle. The fork set is also flexible optional, one is the form of a fork of the road or can add spring or oil shocks. The same goes for the set of brakes, it can be a disc brake combined with a gum brake. Many models also design additional brackets, lighting systems or fenders. It is rare for two Hybrid cars to be exactly the same, as the equipment is up to the owner with arbitrary features they can do to make it suitable for going to work or going out.
Specialty Bikes: Usually cars with specific features for a basic purpose such as the aesthetic of the vehicle, without the need to combine many other functions, mainly focusing on design. If the vehicle concentrates on functions, it will promote its unique function and move most of it in urban areas. There are four types:
Cruise Bikes: Developed from the idea of ​​walking around towns in elegance. Bicycle tires make 26in, comfortable pedaling posture with upright back, wide saddle, not narrow like other types. This type can carry more people from the back seat. Very classic and beautiful design, many different color schemes.
Cargo Bikes: With a black frame design wrapped around the rear wheel rim to be able to carry heavy loads, cargo bikes will make it easy for you to shop in urban areas. transporting or transporting people.
Electric Bikes: Vehicles equipped with an energy-powered motor (can use rechargeable electricity, solar energy, etc.) in a container. It makes climbing easier or less strenuous if you pedal too far and get tired. It also has a built-in feature that converts pedal cycles into stored energy in case you have used up the tank.
Folding Bikes: Bicycles that can be folded up and put in a bag, you can carry it on your shoulder, in your hand or pull it with ease. Convenient for those who are passengers on buses, trams, air trains... want to move flexibly. It is also suitable for limited spaces such as apartments or offices. And if you like to travel camping with your family by car but still want to ride a bike, this is also a smart choice because the car can be folded and stored in the trunk.
Fixed Gear bicycle: is a type of bicycle with the sprocket (split) of the bike attached directly to the transmission of the pedal. At that time, if you want to brake, just pedal backwards and the car will not be able to move forward. Normally, the wheels have bearings, but fixed gear does not, that's why you pedal forward, the car will go forward, otherwise the car will go backwards. With that feature, this type of car does not need to install a brake (brake) but can also add gum brakes if you feel unsafe. Usually the structure of the fixed gear is extremely simple and the colors are also very eye-catching and outstanding, the handlebars are also quite short for you to focus on controlling.
Besides, on the current market, there are also models for special customers such as:
Kids' Bikes: From bikes with side-assisted wheels to teen version bikes that are almost the size of adult bikes, there are many options available for children. The most important factor when buying your child a bike is size. When choosing, remember that children's bikes are measured by the size of the wheels, not the frame. Popular wheel sizes: 16, 20 and 24in, it's important that you stand comfortably and balance when stopped. Therefore, we hope you never choose a bike that is too big for a child, thinking "he will grow up to use that bike". Doing so gives your child the skills to steer more confidently as they can handle dangers, create balance and safety for them, for more fun than anxiety. Don't forget to wear a helmet at all times!
Women's Bikes: Women's bicycles such as road, MTB or Hybrid Bikes, handlebars and saddles are designed to better suit a woman's body shape and physique. For example, the length of the frame will be 1-3cm shorter than a men's car. Therefore, the distance from the saddle to the handlebar will also be shorter and more suitable.
Demonstration bike (BMX): BMX (short for Bicycle Motocross) is a wheeled bicycle with a radius of 18 to 24 inches (1 inch = 2.54 cm), and usually 20 inches. BMX is divided into 2 main types: BMX racing (competition) is a type of BMX racing in dirt (unplasticized) circuits and BMX freestyle is a BMX type that mainly performs "tricks" (technologies) on bicycles. BMX. In the freestyle genre, BMX is divided into 5 different "schools": street (street), park (park is the word skate park, skate playground, not park is park), vert (vert = vertical). ramp, steep), dirt (also known as trail, terrain) and flatland. There are also 3 other schools High Jump, Leap of Faith and Drag.
Once you have chosen a bike based on the above information, you will then want to consider the number of gears, wheel size, suspension system, brakes, frame material. and steering wheel.
Number of gears (Gears)
Maybe you often hear the phrase "10-speed bike", then you may be surprised to know how many gears your daily bike has with 10 speeds? No wonder we will have 18, 24, 27 or more speeds proportional to the number of gears (lips and discs combined). When you pay much attention to the combination of many continuously changing rotations, and then how much lip and disc work, then things get very complicated.
To put it simply, the most important thing depends on your level of training with the terrain that you will choose or experience. If the terrain has many slopes, bridges, hills up and down, it means that you should choose many lips and discs. If you're a speed cyclist or you just ride on flat terrain like paved roads, it's not necessary to have too many lip and disc shifts.
Wheel Size (Wheel Size)
700C: This is the standard size wheel found on most road bikes and hybrid bikes.
650c: A handful of road bikes designed for 650c wheels. To create more confidence for those who are under 1m6 in height.
26in: is the standard size so far of a regular mountain bike, but today, that parameter has changed more with 27,5 and 29.
27.5in (also known as 650b): This is almost the size of choice for many mountain bike enthusiasts because it comes standard between 26in and 29in wheels, and it's both easier to overcome obstacles than 26in wheels. but also more flexible than the 29in gear. However, you must also have the appropriate height for this cake line.
29ers: These 29in-specification bikes are a bit slow when accelerating, but once you start moving evenly, sustained velocity is always good, plus you can tackle the best terrain. It will be best when you have the technique to control stability on the vehicle, take advantage of the "momentum" when there is good speed, and then create the advantage of choosing a good angle to roll the wheel well over high obstacles. . Almost all professionals love to use this type of cake.
24in: Children's bicycles usually use this wheel size, the age of children is around 10-13 years old, but actually the important thing is that the height is more correct. So people with small stature can choose this type of wheel to ensure the comfort of driving.
20in: Also common on kids bikes and so-called show BMXs
16in and 12in: Still the size for beautiful children's cars, but currently, folding bikes still use this size, to ensure compactness, easy to move and take anywhere.
System / shock absorber for car (Suspension)
Full Suspension : is a full shock absorber before and after the car, usually MTB mountain bikes will exclusively have this type of fork. To significantly reduce the forces exerted from the terrain on the vehicle and the driver, in addition to increasing traction, giving you more peace of mind to enjoy the fun that MTB brings.
Front Suspension : Only the front suspension is available, usually MTB mountain bikes and Hybrid multi-purpose vehicles will have this feature. Mainly to adapt to not too difficult terrain, or on sidewalks, urban streets. You will lose less power but still be safe with the front fork.
No Suspension : No suspension fork, also known as fork. Since those who choose this type of fork are mostly interested in high speed, installing these types of shock absorbers will limit the high speed. That high speed usually goes on long roads, flat paved roads. Road or touring cars will prefer the fork fork because of its suitability, not having to spend time on regular maintenance, which is also an advantage.
The ADO E-Bike is a solid companion in urban living. We create products that provide a great driving experience on complex traffic conditions such as bumpy, rocky and uphill. All ADO products are designed to be environmentally friendly and comply with environmental guidelines.