News ADO
Measures to help you choose a power-assisted bicycle as a means of transport
by Vy Nhat on Jun 07, 2023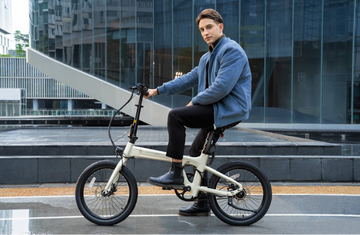 You are wondering whether to use power-assisted bicycles instead of these daily means of transportation. Although you already know about the great health benefits of bicycles, there are always road obstacles and dust that make it difficult to make a decision! Let's go with ADO E-bike to find solutions so that you can confidently choose a bike for your daily activities!
Product reference:
Distance from home to work is too far
You are too busy to exercise, or participate in your favorite sports. So, don't hesitate to start cycling to work from today.
You can start with a moderate speed, not too fast and let your body adapt to this movement, with a moderate speed you can also regulate energy from within, exercise strength. its durability.
With modern bike models all have transmissions with multiple speeds, you can fully master this gearshift system, so you can save energy and enjoy the best cycling efficiency. .
So, what remains is your wake-up time that needs to be changed. Try to think of early mornings, breathe in the fresh air and combine with exercise… every day you will feel the change from within your body. With only 21 days, our habits will be formed and maintained for a long time. So, don't wait any longer!
The difficulties of the weather
This is one of the great challenges for the patience and determination of many people. Especially for those of you who work at the office, with a uniform of trousers, a shirt, and western shoes... it will be uncomfortable to ride a bicycle in the summer... To overcome this case, you can choose the standard one. Wear work clothes and bring them to change when you come to work. Or opt for sweat-proof sports bras.
When you first start cycling, your body will sweat more than usual because your body is not used to exercise, but later on, the amount of sweat will be reduced more or less depending on your location. each person.
In the rainy season, you can choose a set of raincoats to cover your work clothes. You can also install mudguards on the front and rear wheels to minimize the chance of getting splashed on your body.
Heavy backpack
For today's popular bicycles, they all have a modern design that can be attached to a baga to carry things or other accessories to support things without you having to wear your backpack.
If you want to be more active and compact, learn to limit the items you really need in your backpack. This will also help you learn how to minimize your life.
Traffic jam
Besides deciding to cycle to work, it is also about changing your commute to work earlier than usual, so you will also avoid traffic jams in the area.
In addition, when riding a bicycle, you should rub on the right side of the road to avoid high-speed passing vehicles and reduce the risk of accidents.
Car protection
Bicycles can accompany you to every corner and everywhere, if you love your bike and don't expect them to evaporate, invest in a sturdy bike lock to ensure the safety of your bike. !
The ADO E-Bike is a solid companion in urban living. We create products that provide a great driving experience on complex traffic conditions such as bumpy, rocky and uphill. All ADO products are designed to be environmentally friendly and comply with environmental guidelines.