News ADO
Some models of power-assisted bicycles for students
by Vy Nhat on Jun 02, 2023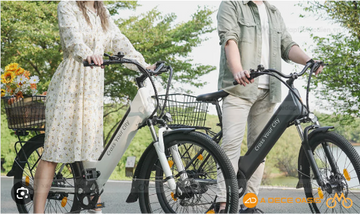 The image of schoolboys and girls wearing school uniforms must be no stranger to everyone - this is the image representing the country of Vietnam. The line of power-assisted bicycles for students is very interested by ADO E-bike and focuses not only on quality but also on design. Let's learn with ADO some types of bicycles for students in the article below.
Criteria for choosing power-assisted bicycles for students
The age of students, especially middle school students and above, already know how to care and look at their objects to see if they are beautiful, suitable for their interests,....Each student Depending on the personality, there will be different evaluations of their objects.
However, school age is also an age that is still quite active, so it is very necessary to have quality power-assisted bicycles to be safe during travel.
Therefore, in order to evaluate a bicycle for students that is both beautiful in quality and beautiful in design, the following criteria should be met:
● Super durable frame: with typical materials of ADO E-bikes such as high-grade steel, it will give each bike high durability, without being affected by the outside when it's raining, windy or sunny. .
● Safe tires: moving on heavy rainy days with slippery roads is probably a concern for many people, so you need to choose for your children a bicycle with tough enough tires and friction. high through the tire design so that riding on slippery roads or braking hard will have as little effect as possible.
● Good brake system: moving anywhere in the city or in the countryside, you also need to be very careful and brakes are an extremely important part. You need to choose a vehicle with a good compression brake system but not too hard.
● Appropriate height: depending on body size to choose the right car size to avoid riding too high that you can't control your balance and also shouldn't be too low to cause the driver to have overlapping legs.
● Suitable color: every man or woman or every personality has different color preferences. In addition to choosing quality, you should also choose fresh colors and match the preferences of the user.
Some lines of power-assisted bicycles for students
Bicycle company ADO E-bike always brings the best quality products to each customer and students are no exception. Here we would like to introduce to you a few lines of scooters for students that are not only standard in quality but also outstanding in design.
If you are looking for a bicycle for sweet and gentle girls, you cannot ignore the ADO A26S XE series. Possessing pastel colors that are both gentle, bright and trendy, this car will definitely "catch the hearts" of girls right from the first time.
Product reference: ADO A26S power-assisted bicycles
In addition, quality information is guaranteed:
● high-grade steel chassis
● Separate aluminum handlebars and rims are made of solid aluminum with two layers
● V-brakers make the brand of the car company
● wheel size: 24 inches with tires 24 * 1.95 "
● In addition, the car has enough accessories such as a cart, rear saddle, ...
Power bike ADO Air A20
Product reference: ADO Air A20 power-assisted bicycle
If the above car is for light-hearted women, this is the car for those with strong and dynamic personalities. The car is covered with a layer of electrostatic paint that helps the car to be neither too bright nor too dark.
In addition, the material of the car is high-quality aluminum from the chassis, handlebars, rims, ... to help the car look solid and safe. Extremely light weight helps cyclists do not lose strength when riding on slopes. The bike is equipped with a 24-speed Shimano starter that makes it easy to customize to best suit your needs and intensity of exercise.
Power-assisted bicycle ADO D30C
Product reference: ADO D30C . power-assisted bicycle
ADO D30C power-assisted bicycle is a bike for strong, sporty, personality and liberal men. Owning 2 large wheels - the typical shape of student sports cars, you will feel very prominent on the school field if you ride this D30C bike.
The most expensive point of this car is the chassis made from the world's leading brands and Light Aluminum material. In addition, the car has very quality materials such as Shimano FC drumsticks, Shimano SL handlebars, ...
Those are the bicycles for students that we want to share with you. Please visit our store to consult and consult directly.